A soaring cathedral ceiling and a wall punctuated by a large stained-glass window make this Brookside living room feel as if it were originally a church, not a cozy family home.
The grand living room is just one of many unique and quirky architectural features that made Janette Yost confident the late-Jazz Age Tudor revival would be the perfect canvas for her eclectic design style.
"I really love old homes and the base they create to add modern touches and come up with a design that is both familiar and unfamiliar," says Yost, who was handed the 1928 home's original blueprints along with the keys.
Yost, who grew up on a Kansas wheat farm but spent years living in San Francisco, and her husband Jeff Larison had been looking unsuccessfully for an older home that could accommodate their soon-to-be family of four. Yost had become resigned to the idea that they would most likely live in what she calls a "boxy" newer home with a "predictable" floor plan. Then this house came along.
"We saw it in the morning, and I saw that high ceiling, and we put an offer on it that afternoon," Yost says.
Over the past several years, she has been redoing the home, taking inspiration from its history as well as her own life adventures.
"At a certain point, it becomes an obsession to find the right things," Yost says of decorating. Some of her regular haunts are Urban Mining, an antique mall open only the first weekend of the month, and Industry West, an online furniture retailer.
Yost, founder of the marketing firm Nous Studio, has found inspiration from vintage photos of the Country Club Plaza developed in 1923, just a few years before her house was built.
"This home feels like there are some Spanish and Moroccan influences," she says, pointing out the home's various archways and original gold sconces—which she rubbed with black washable kid's paint to tone down the finish—sprinkled throughout the house.
Living Room
Photography by Chris Mullins
The living room is awash in bright white paint, creating a light and cohesive feeling despite the heavy, almost Medieval features. From the thickly plastered fireplace and built-in nooks to the vaulted ceiling and stained-glass crest sitting high above French doors, the living room could feel rather heavy and foreboding, but the light color lends an airy, modern touch.
Using the white paint as a unifying element, Yost brought in black and brown colors with furniture, textiles, some trim and art, creating a graphic look and a layer of modernity.
Yost was having a hard time finding artwork that fit her living room aesthetic and opted to create her own large brown and beige graphic piece on canvas, which is hanging proudly opposite the fireplace wall and built-in window seat.
Not sure what to do with an outward sloping wall above the fireplace, Yost decided to dangle a mobile just a few inches in front of the mantel. It moves delicately and looks rather graceful when a fire is lit, she says.
Yost says she discovered a note on the home's original documents suggesting a banner of a knight in the living room might make a good addition, presumably adding a layer of authenticity to the other castle-like features. So far, Yost hasn't gone in that direction. "I find that so funny," she says. "But, hey, you never know, I might find the perfect banner."
Dining Room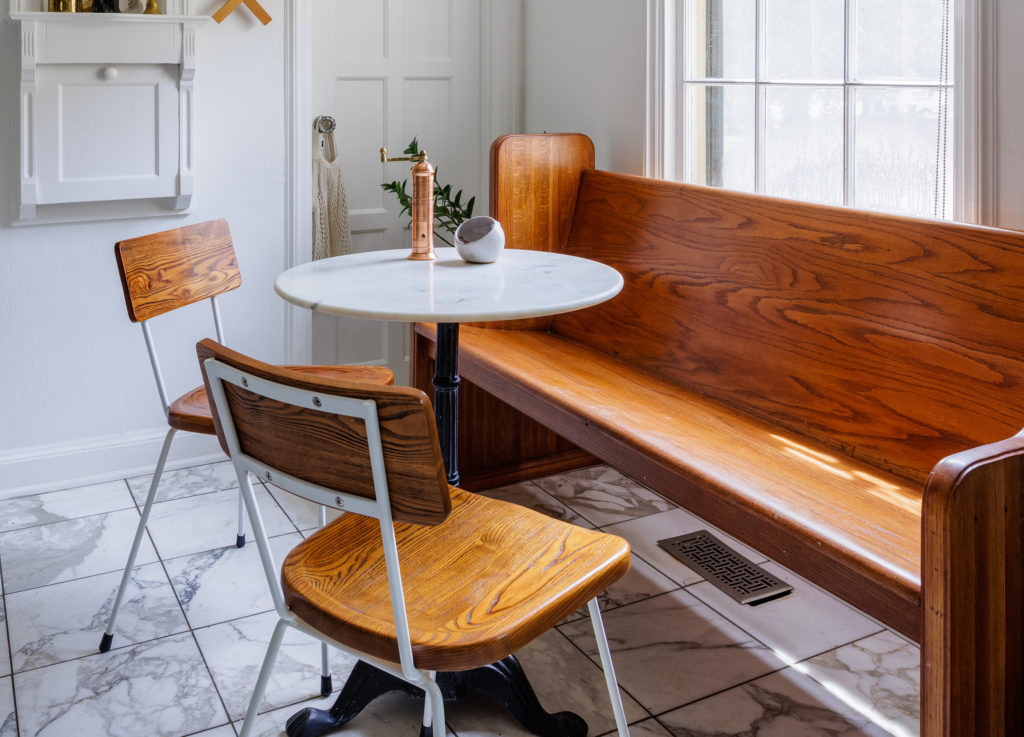 Photography by Chris Mullins
A large, sturdy table by local custom furniture maker Unruh proudly anchors the dining room. The white walls are accented by a Moroccan-style arch painted partially black, adding drama along with an almost-black flat-weave rug.
Other graphic elements in the dining room include black and beige block prints created by every family member. The one pop of color in the dining room is a large red-and-pink-toned abstract painting by artist and family friend Christine Cover, who just recently moved from Kansas City to Washington D.C.
"To me, having artwork with stories is so meaningful," Yost says. She is determined to fill her home with pieces that have meaning to her family.
Kitchen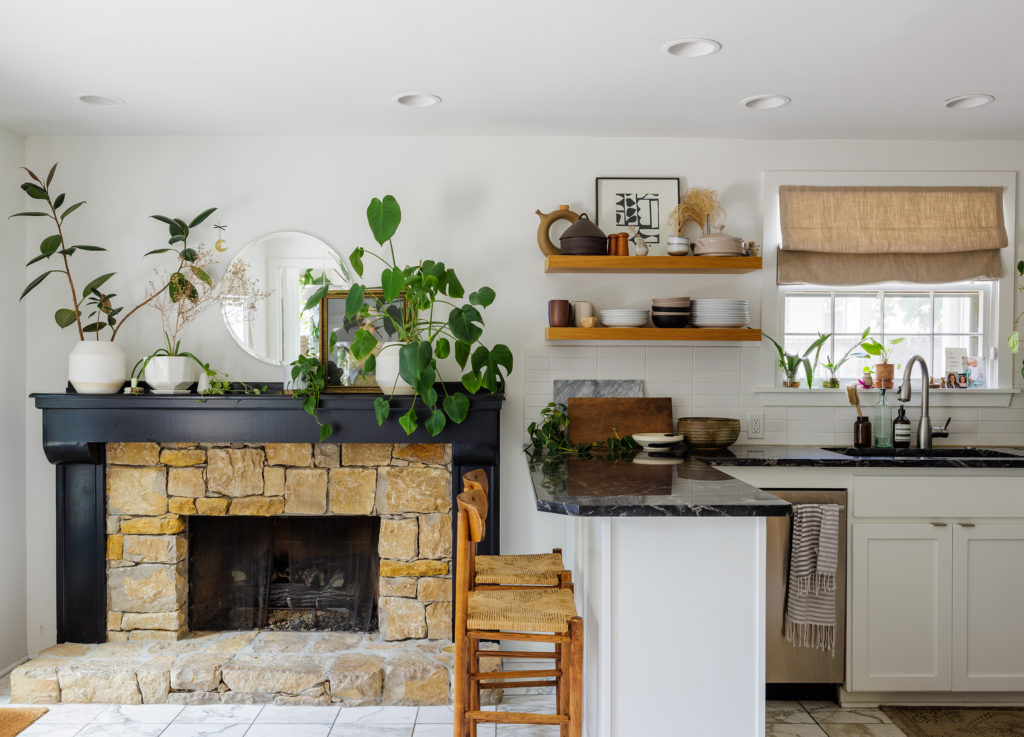 Photography by Chris Mullins
In the kitchen, Yost kept the black granite countertops but painted the oak-colored cabinets white and installed a white subway tile backsplash and a few floating shelves.
In the kitchen's breakfast nook is a fireplace that is believed to be a 1980s edition. Inspired by her favorite San Francisco coffee house, The Mill, Yost created a banquette eating area near the fireplace using a church pew and a French-style bistro table.
Nursery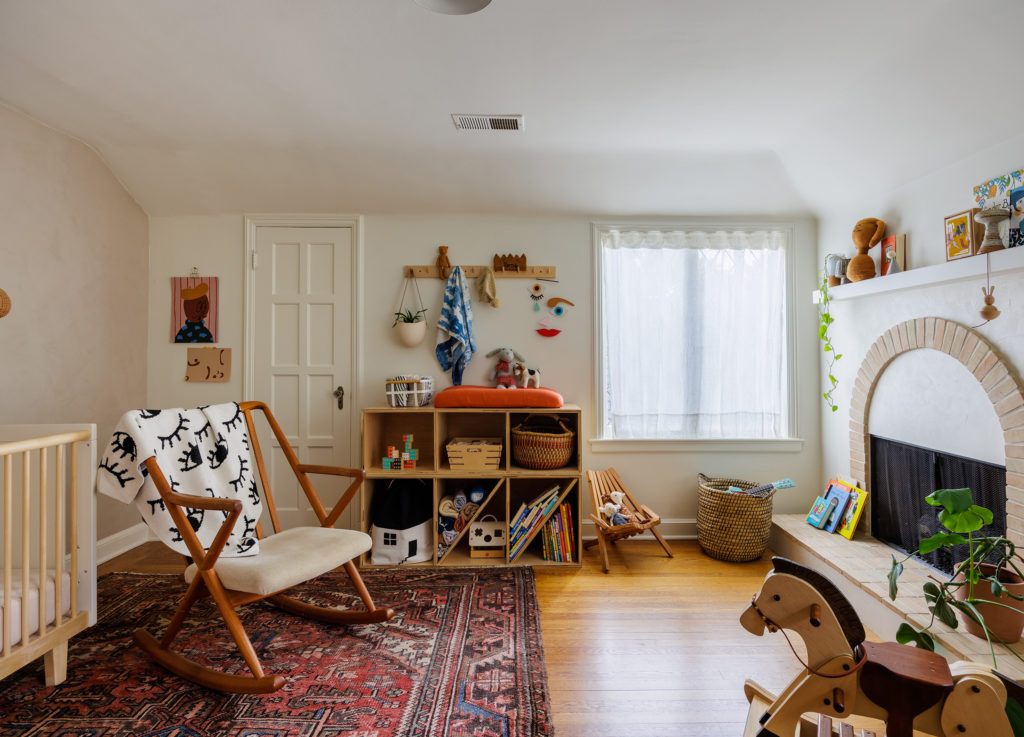 Photography by Chris Mullins
Yost wanted her son's nursery to be calm but with a little more color than other parts of the home, so she introduced muted colors into the room by lime-washing one wall in a muted gray and using textiles and furniture with colors found in the vintage Persian rug anchoring the nursery.
The nursery also had a fireplace not original to the home that Yost thought needed a little bit of an update. With the help of her father-in-law, they turned the traditional-looking fireplace into a more organic focal point using a Roman clay plaster finish and handmade tiles.
Upstairs Bathroom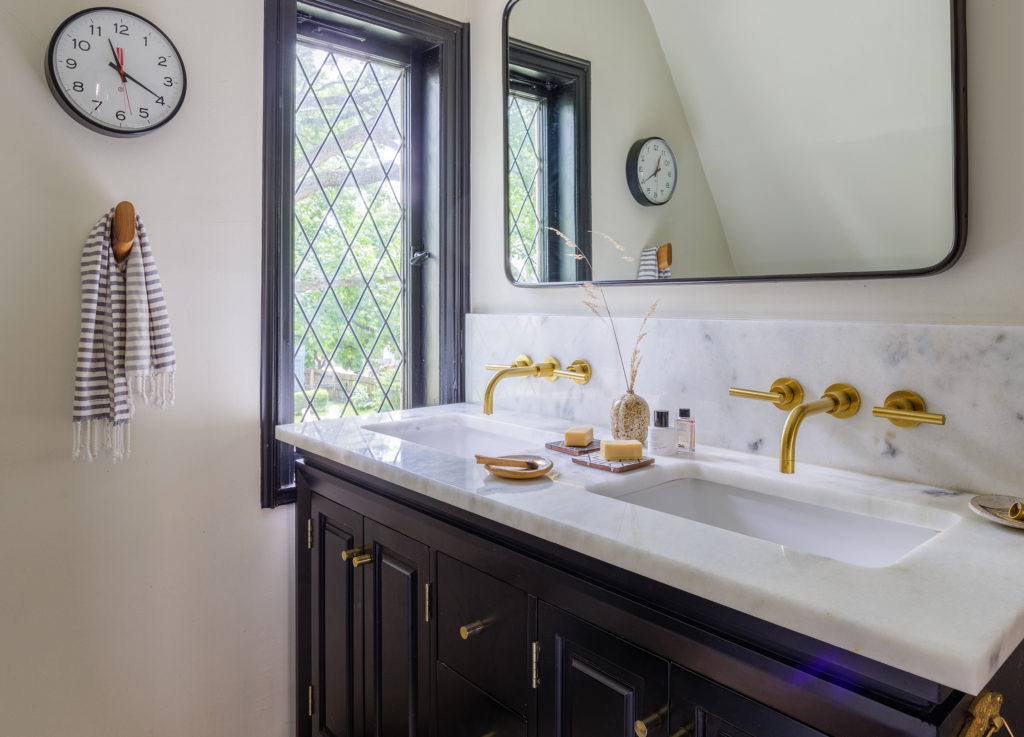 Photography by Chris Mullins
Yost updated the upstairs bathroom with a fresh coat of white paint and black trim, just as in other parts of the house. She used modern yet classic wall-mounted brass hardware and a simple mirror.
Child's Room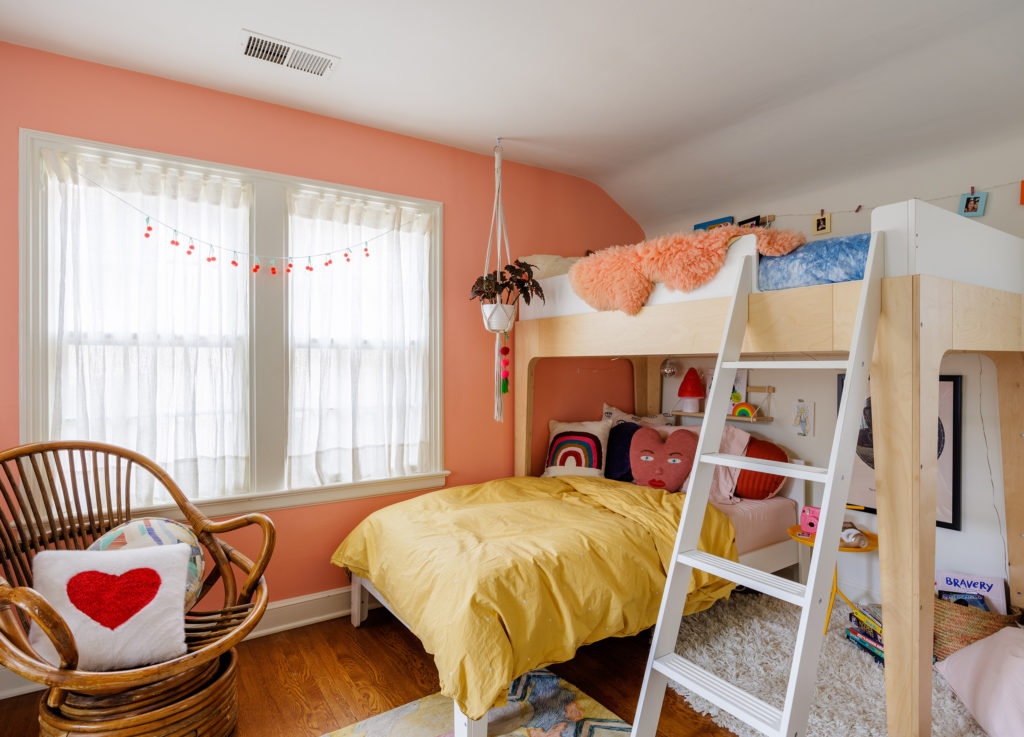 Photography by Chris Mullins
The one room in the house that veers from a neutral palette is that of Yost's ten-year-old daughter. After being granted some artistic license, Yost's daughter chose pink walls and brightly colored bedding, which Yost tied together with a colorful rug. Although a slight departure from the rest of the home's design, the simple modern furniture makes the room still feel as if it belongs with the rest of the house.
The post A late-Jazz Age Tudor in Brookside is designed to feel both cozy and grand with a cathedral ceiling, stained glass and personal, modern touches appeared first on missouridigest.com.