Grandview's Main Street is a little sleepy. The small stretch is home to a barber shop, a model train store and a Mexican restaurant with a dilapidated awning (it's called the Corner, and its house-made corn tortillas are worth a visit). Kip Unruh, president of Grandview's Main Street Group, says it won't always look like this. There are big plans to revitalize the small Missouri town, just twelve miles south of Kansas City. But you've got a good reason (besides the DMV) to make the trek now: Housewife.
Housewife is a totally unexpected scratch-made breakfast and lunch spot at 801 Main Street that's fashionably out of place in Grandview. Located in a century-old building and sharing a bathroom with the insurance office next door, owner-chef Anna Sorge has given the space an L.A.-style makeover: lots of white, exposed brick, natural wood, minimal decor and plenty of healthy green plants. It looks like the kind of place where you'd pay $15 for a shot of juice, and I mean that as a compliment.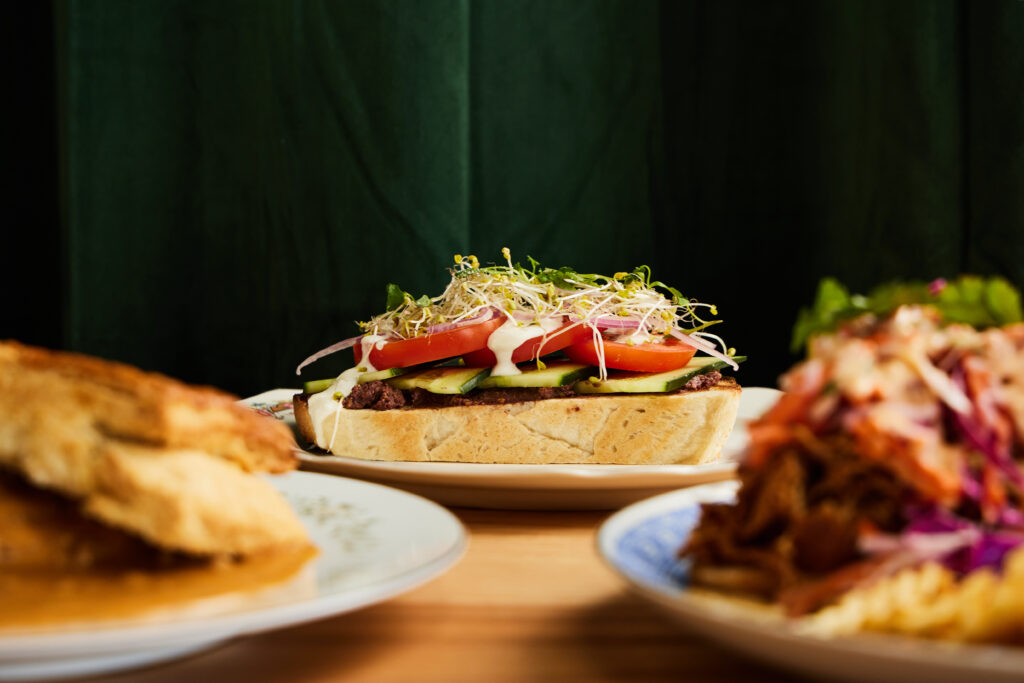 Photography by Caleb Condit & Rebecca Norden
But no single item on the current Housewife menu is over $14, and the small, always-shifting menu is enthusiastically Midwestern: sandwiches, soups, salads, a smattering of breakfast dishes and a bounty of assorted pastries. Chunky almond croissants dominate the case, pretty and proud as jewels. Pastry chef Zoey Ramberg makes around three dozen of these daily by hand. The dough shatters into buttery shards upon impact, but the best part is the decadent, nutty filling—likely in excess of what you might find at a Parisian pâtisserie but exactly proportionate to your craving. Prefer chocolate for breakfast? The double chocolate croissant boasts a punch of cocoa powder in the dough itself. And Ramberg's brownies—made with Bob's Red Mill's proprietary gluten-free baking flour blend—have their own following. The fat, fudgy squares are topped with a dollop of marshmallow-y meringue, and they are so good you'll forget your manners and cram the whole thing in your mouth just to avoid sharing with anyone else.
All of Housewife's bread is made in-house. Rustic loaves are used for the toasts: Sorge pairs smoked salmon with a homemade cream cheese she whips together from heavy cream, fresh dill and garlic. You can smell the mushroom toast (flavored with truffle salt and truffle oil over whipped ricotta) before it hits your table. Sorge is most proud of her avocado toast. Ubiquitous and trendy though this brunch entree may be, she serves this the way she has been making it for a decade—with seasoned smashed avocado, roasted chipotle-tomato jam, cilantro-pepita pesto, pickled red onion and cotija cheese.
Sorge uses Yoli tortillas for her breakfast burritos, relying on the classic ham, egg and cheese combination, with a satisfying crunch from golden crispy potato crowns. This wasn't intended as a shortcut: Sorge started with her own oven-roasted seasoned potatoes but decided she needed a hash brown texture instead. At just six dollars, the made-to-order hot ham and cheese croissant with extra-thick slices of Black Forest ham, melted gruyere and a zippy apricot mustarda is a steal. But the real star of the breakfast menu might be the buttermilk biscuits and gravy. There is something about that whole milk gravy, with morsels of pork sausage and a heavy hand of paprika, that beckons you to scrape your fork against the plate.
None of these dishes is all that revolutionary. Sorge recognizes that. "Is this the menu that shows all my skills? No," she admits, "but it's what Grandview needs right now. We're filling a void." What Housewife sacrifices in novelty, it makes up for with flavor. Sorge prioritizes quality over convenience. It's why, with the exception of the breakfast burrito, there are no eggs on her breakfast menu: Housewife's kitchen is small—just two hot plates and a prep station where Sorge assembles the orders—and the logistics of it mean that made-to-order eggs aren't possible. You don't even miss them.
The menu eases into lunch with two salads. Sorge takes kale and meticulously destems each stalk before tossing with a bright citrus and pecorino vinaigrette. She finishes the plate with a pale shower of pangrattato (herbed breadcrumbs). Each bite of the Thai chicken salad makes you want to take another—who wouldn't like sambal and soy-marinated chicken with herbs and crushed peanuts? But it's the small touches that give distinction: Sorge slices snow peas on the bias, giving you a perfect forkful every time.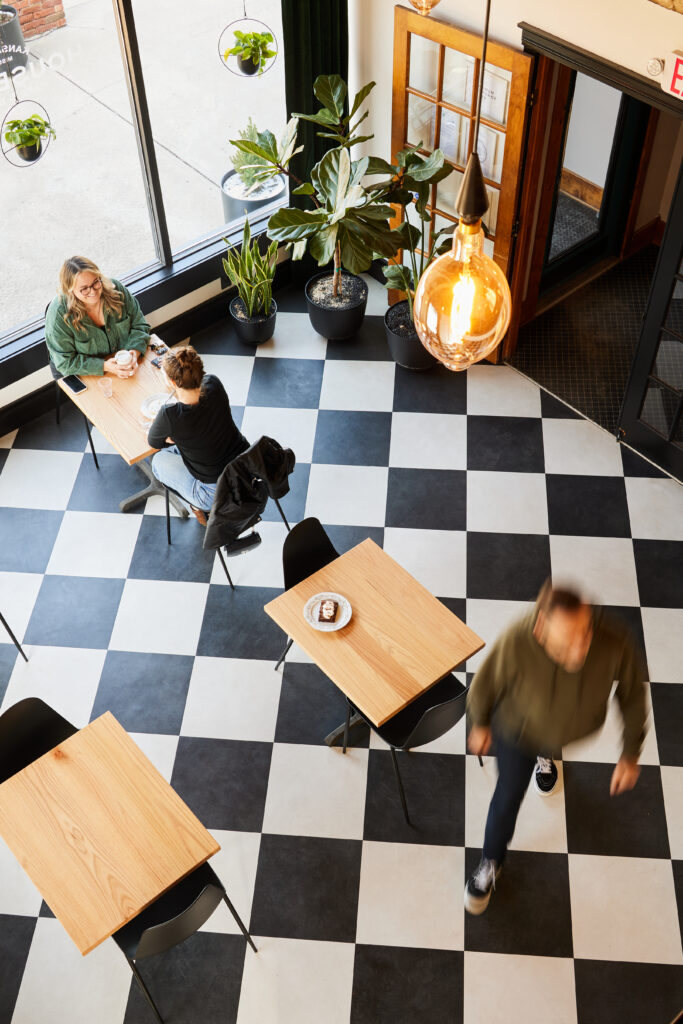 Three of Housewife's four sandwiches are served on homemade hoagie rolls (Ramberg offers a gluten-free option, too). There is a classic roast beef sandwich, a wonderful turkey club with thick-cut bacon and pepperoncinis, and a Godfather-worthy Italian hero served with a spicy giardiniera that wakes up your taste buds. The chicken salad, modeled after the one Sorge remembers from her time working at Dean & Deluca, is bursting with fried sage and roasted pecans and served on a croissant.
But on a menu full of humble-sounding dishes made special by Sorge's touch, it is the soups that stand out. Behold: a glorious Philly cheesesteak stew, glittering with freckles of beef fat. An intense and unforgettable pork pozole that nips at the back of your throat. A tortellini zuppa that could fool a Tuscan nonna. Sorge's talent for layering flavors sings with every spoonful. Each day offers a new soup and therefore a new reason to return to Housewife several times a week.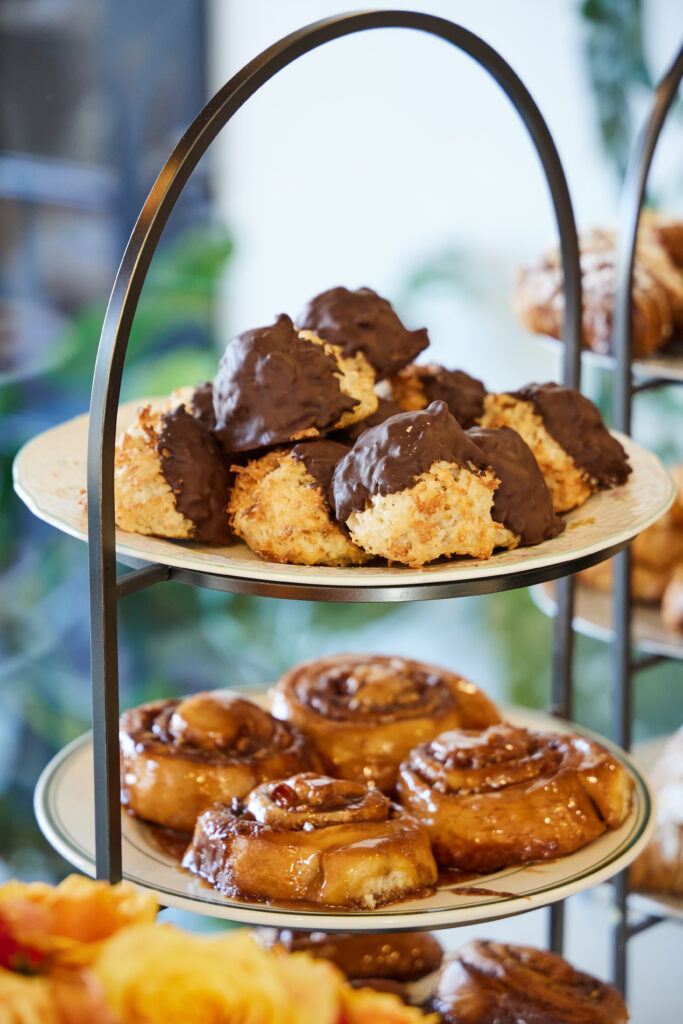 Photography by Caleb Condit & Rebecca Norden
You might be surprised to learn that Sorge has never cooked professionally. She has spent decades working front-of-house in the industry—most recently as the general manager of the Market at Meadowbrook, where she met Ramberg—but until opening Housewife, she has been a home cook. I was not at all surprised to hear this. Everything Sorge puts on a plate feels like it was intentionally crafted and carries the joyful pride of a seasoned host coming into her element.
Unruh, the man working to revitalize downtown Grandview, calls Sorge the city's "cool factor." "There's nothing cool around us until you get to Martin City," he says. "Grandview is kind of dormant, but Anna is showing us that there's an appetite for stuff here. It just takes someone brave to get it started. Right now, Housewife is your reason to come to Grandview—but that won't always be the case."
The post Housewife's scratch-made food is drawing brunchers to Grandview appeared first on missouridigest.com.