The definition of "comfort food" tends to vary depending on who you ask. At two new Brookside restaurants, Brady & Fox and Earl's Premier, the term applies both to time-honored Irish recipes and East Coast oysters, respectively. You'll find fish and chips at both of these transatlantic spots, but more importantly, you'll get to sample a different kind of home.
The Latest Craic
You can find an Irish pub in just about any corner of the world. When you're thirsting for a Guinness in Kansas City, home to one of the largest St. Patrick's Day celebrations in the country, you have plenty of options. Is there anything to be gained by adding one more Irish watering hole to the mix?
Yes, if that watering hole is Brady & Fox (751 E. 63rd St., KCMO). Named after owners Shaun Brady and Graham Farris (his mother's maiden name is Fox), the restaurant opened in March at 63rd and Troost. The menu at Brady & Fox is largely Irish with American accents. Brady moved from Nenagh, a small town in central Ireland, to the U.S. nearly two decades ago, and he brought with him the Irish recipes he grew up on.
The house pies are a lesson in tradition, starting with the cottage pie—seasoned ground beef mixed with a garden of vegetables buried under a heavy avalanche of mashed potatoes.
"When I first moved here and went into the so-called Irish bars, I would have so-called cottage pie," Brady says. "It would come with lamb, which is wrong—shepherd's pie has lamb, cottage pie always has beef—and two big slices of American cheese melted on top. Why would you do that?"
Brady laments this in a Tipperary accent before launching into the cottage pie origin story, which dates back to the late 1700s. In those days, Irish cooks and housewives would maximize a portion of beef by mixing it with other vegetables and packing it into a hearty pie.
Brady & Fox portions hearken back to the old days, too. Order the requisite fish and chips and brace yourself for an impossible pile of thick hand-cut fries and an eight-ounce Smithwick's beer-battered Norwegian cod filet, never frozen, fried until golden. On the side, find zesty house tartar sauce, refreshing mild slaw and minted mushy peas. Brady prepares his the way your grandmother treats Thanksgiving mashed potatoes—generous with the milk, cream and butter—and they are far better than they need to be.
Brady's dishes will give déjà vu to fans he won over with Brady's Public House, the Irish pub he ran for three years until it closed in 2020 amid the pandemic. Brady & Fox resurrects many of those recipes, but it also gives Farris the opportunity to step into the spotlight. He shares Brady's attention to detail: A half-chicken is brined with maple and warm spices for two days before roasting, and the accompanying pan gravy is a savory balm.
It's more than just good food you can count on. Brady and Farris wanted to emphasize community and family. Long dining tables can accommodate groups of eight or twelve, and comfortable lounge chairs invite huddled conversations. You can have a pint and enjoy the game, too, but this is no sports bar—televisions are on mute.
"We wanted to bring back the family meal," Brady says. "I have two young kids. The first thing parents do when they bring their kids to a restaurant is put a tablet or screen in front of them. Food brings us together, so why are we losing conversation at the meal?"
Aw Shucks
There's something deeply familiar about Earl's Premier (651 E. 59th Street, KCMO), and not because there are any remnants of Chai Shai left at the space at 59th and Holmes, which closed in late 2021. Maybe it's the upcycled antique decor: Wood for the bar came from salvaged doors, a vintage tin ceiling was revealed and painted with a fresh coat of an off-white called "oyster bar," and miniature models of classic sailboats are perched atop the liquor shelves. You'd be forgiven for expecting a bar full of wizened lobstermen and crabbers wearing oilskins and bib overalls.
Todd Schulte and his business partner Cory Dannehl opened Earl's in May. Schulte is a familiar name to many: He opened Happy Gillis Cafe & Hangout in 2008 (and sold the breakfast spot to Josh and Abbey-Jo Eans in 2013), Genessee Royale (it operated from 2010 to 2018) and Speak Sandwiches and Uncommon Stock (Schulte closed the deli counter in August 2017, ten months after opening). But Earl's Premier marks new territory for Schulte: It's his first dinner restaurant and his first raw bar. And while Schulte has always had a soft spot for overlooked neighborhoods—his previous restaurants opened in Columbus Park, the West Bottoms and the Westside long before they were foodie destinations—this is the first time he's starting in Brookside, with a built-in clientele clamoring to support the bar down the block.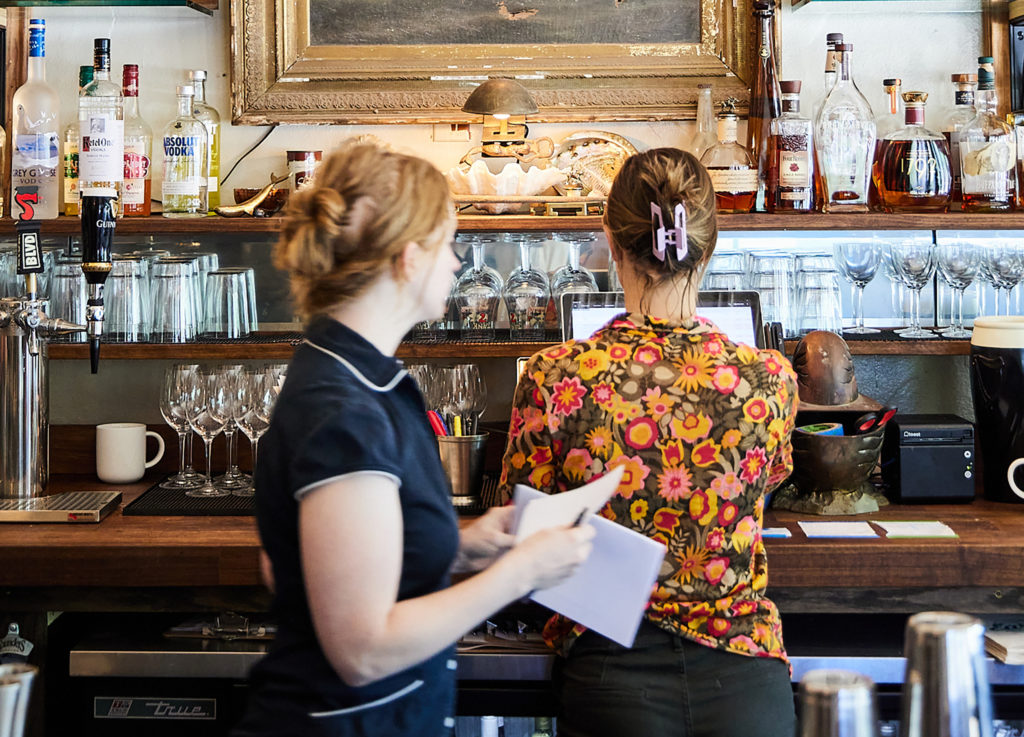 Photography by Caleb Condit & Rebecca Norden.
Case in point: Reservations are strongly recommended if you're looking to snag one of the galley-style restaurant's thirty-eight seats. There are already regulars who seem to have claimed certain bar stools or tables on certain nights—which is just how Schulte and Dannehl planned it.
"We really wanted to do a neighborhood American bar and grill," Schulte says, "and we both have a fondness for seafood and coastal areas. We have oysters flown in daily, and beautiful, fresh oysters from Maine are what we like to hang our hat on."
Certainly, the oysters at Earl's—procured from Maine and the West Coast—are wonderful, especially with a squeeze of lemon and the house mignonette. But it's the oyster po' boy that flies out of the kitchen. For this fail-safe classic, oysters are dredged in whipped egg and cream and coated in a mix of flour and potato starch, then fried until they wrinkle like golden raisins.
"We have a shrimp po' boy, too, and there's a lot of people that come in and ask for a half-and-half, which is a New Orleans thing," Schulte says.
Befitting a Midwestern seafood joint, Schulte and Dannehl were adamant about quality. The classic shrimp cocktail boasts five plump black tiger prawns that have earned their name, poached until soft and dusted with Old Bay. The crudo changes frequently, but the salmon is memorable for its simplicity: vibrant pink shavings blessed with olive oil, yuzu and tissue-thin radish slices.
The "Felix" at Earl's Premier is a half-oyster, half-shrimp po' boy named for a famed New Orleans oyster bar. Photography by Caleb Condit & Rebecca Norden.
But the menu at Earl's Premier is not large, and while it emphasizes shellfish, about half the dishes are more land than sea. Schulte and Dannehl try to have something for everyone: There is a roasted half-chicken with a peppery piri-piri sauce, a classic cheeseburger and a handful of pretty salads. The set nightly specials will guarantee a varied crowd at Earl's: Tuesday is for tacos, Wednesday for steak, Friday for cioppino and so on.
To stock the bar at Earl's, Schulte and Dannehl sought the talents of Sarah Hogan (formerly the general manager at Ça Va). In addition to a thoughtful wine and tap list, Hogan has devised a drink menu with cocktails that aren't overly complicated—like a frozen J. Rieger & Co gin and tonic, a dangerously slurpable concoction that is guaranteed to blur the line between going out for "just one drink" and singing sea shanties.
The post Review: Brookside restaurants Brady & Fox and Earl's Premier bring homestyle cooking from opposite sides of the Atlantic appeared first on missouridigest.com.