Small Towns
We love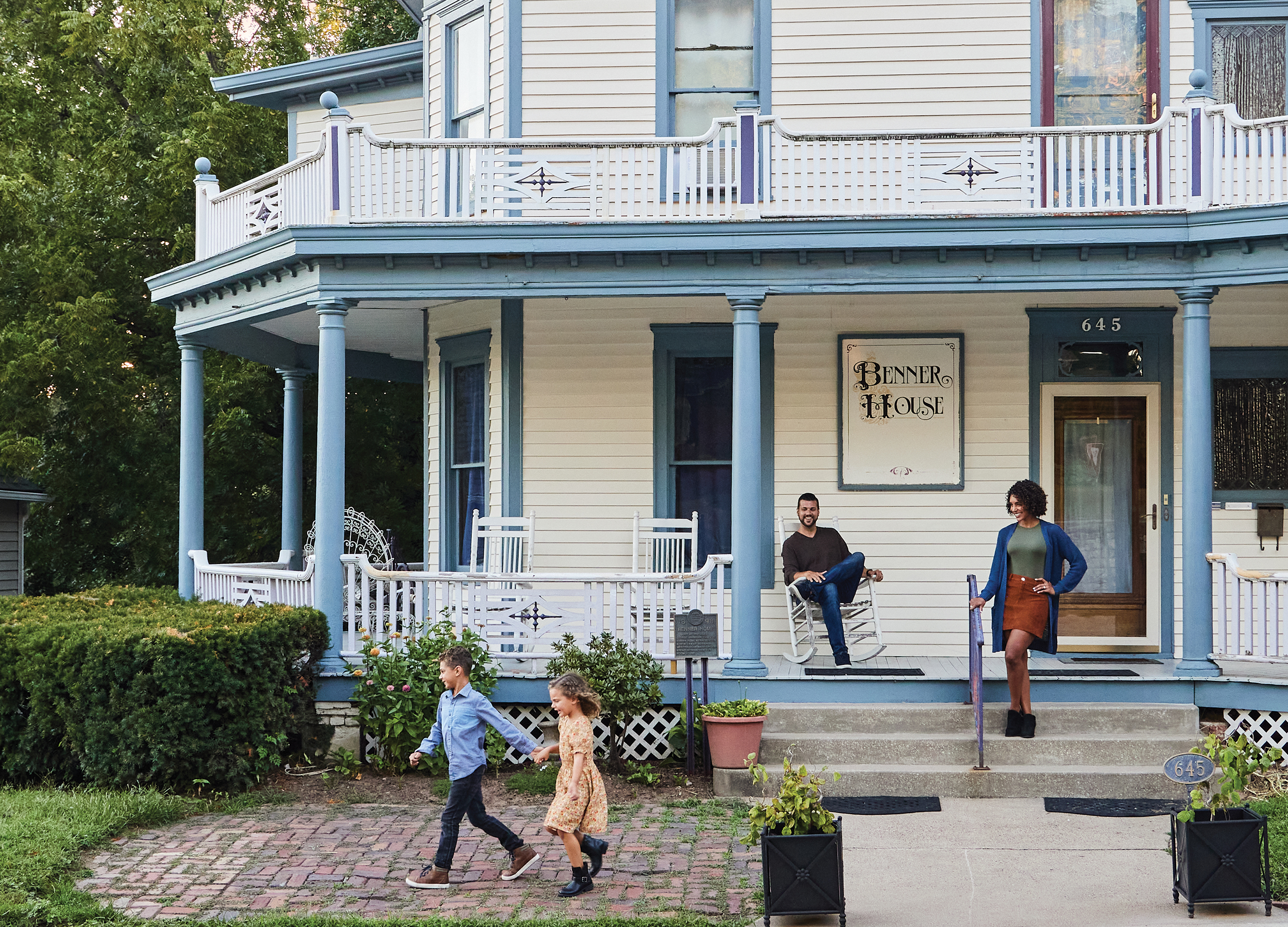 PHOTOGRAPHY BY CALEB CONDIT AND REBECCA NORDEN
12
Small Towns Around KC to Visit This Fall
Autumn is the best time of the year here in the lower Midwest, where the days stay warm almost into November and the nights start getting a little crisp. Make time for a short weekend trip, somewhere life moves a little slower. Here's our guide to a dozen cute small towns within a short drive of KC that are rich in history and charm and have just enough—but not too much—to keep you entertained.


Weston Hospitality
WESTON, MO. | POPULATION 1,759
Have you been looking for Bigfoot? 
If the answer is yes, Weston leads a massive Bigfoot Search in April. And if you're not interested in that, the small Missouri town hosts plenty of other festivals and events throughout the year, including its renowned Applefest in October. 
You'll find the inviting town about forty minutes outside of downtown Kansas City. It's one of the best small towns in Missouri, with the Historic Weston Orchard and Vineyard (18545 Co. Road H), Snow Creek (1 Snow Creek Drive) and Weston Bend State Park (16600 MO-45) all within its borders. Where else in Missouri can you find snow skiing? Snow Creek has over sixty snowmaking machines, and its entire terrain can be covered in just seventy-two hours when temps are cold enough. 
Weston was first settled in 1837 by two soldiers from Fort Leavenworth, Kansas. By the next year, 1838, one of the town's first entrepreneurs, Ben Holladay, had arrived. He built a small tavern that laid the foundation for Holladay Distillery.
Holladay Distillery (1 McCormick Lane) is the oldest distillery in the state, remaining American-owned throughout its entire one hundred sixty-six years of existence. Today, Holladay Distillery is the house distillery for McCormick, which distributes liquor nationwide and internationally to over seventy countries. 
Liquor isn't the only business upon which the town of Weston was built. Its original settlers' main source of income was tobacco farming. As early as 1840, tobacco was farmed and shipped out of Weston to St. Louis and Cincinnati by steamboat. Tobacco is still cultivated in the area—Weston Tobacco (357 Main St.) sells handmade cigars and hosts an annual tobacco festival. 
Just off Main Street, you'll find Pirtle Winery (502 Spring St.), a winery in an old church building built by German immigrants in the late 1800s. Back on the main strip, the street is lined with niche boutiques like the Celtic Ranch (404 Main St.), where you'll find a newly-renovated whiskey snug upstairs. With over eleven hundred domestic and international whiskeys, The Whiskey Snug & Gin Joint claims the largest selection of Irish whiskey, single malt scotch and unusual bourbons and ryes in the Midwest. You can enjoy tastings and curated whiskey flights in the snug, and you can buy bottles to take home. We recommend letting a whiskey ambassador guide you through your experience. 
If the whiskey has you hankering for a second dose of Irish culture, Weston is home to O'Malley's Pub (540 Welt St.), located in three vaulted limestone cellars of Weston Brewing Company. The pub hosts nationally famous Irish entertainers on the reg—that, coupled with the snugs in the top cellar and the bottom cellar fifty-five feet below ground, transports you from Missouri to Ireland in seconds. —Mary Henn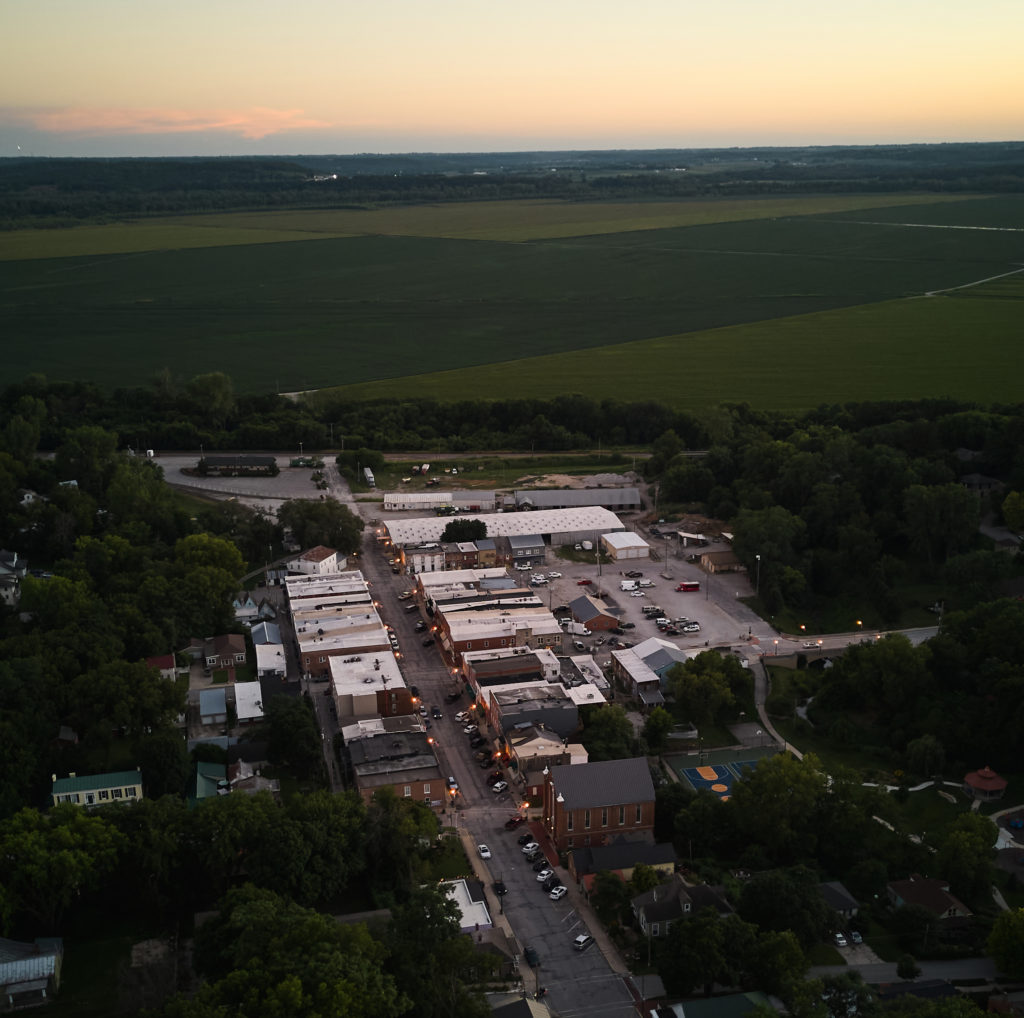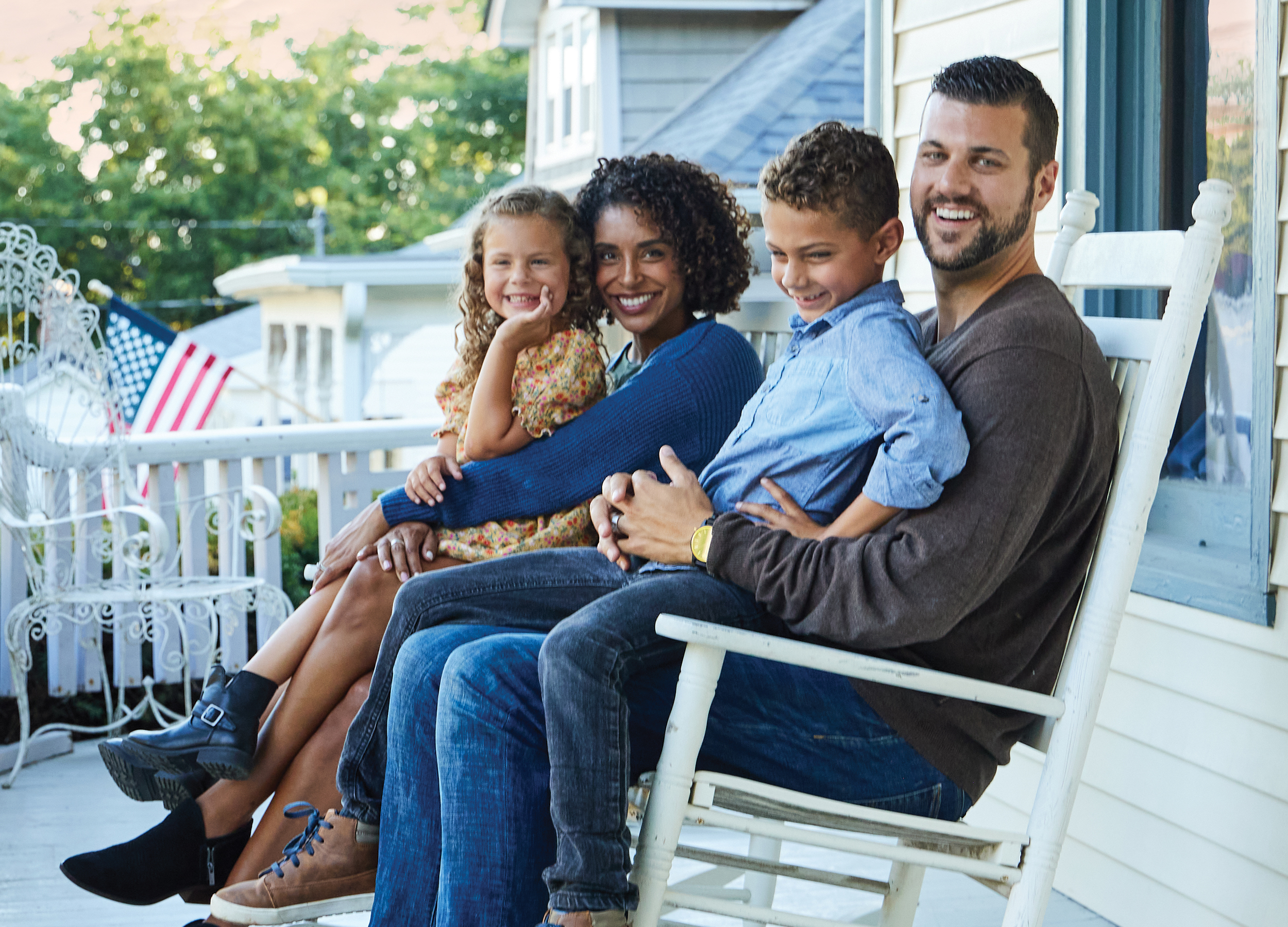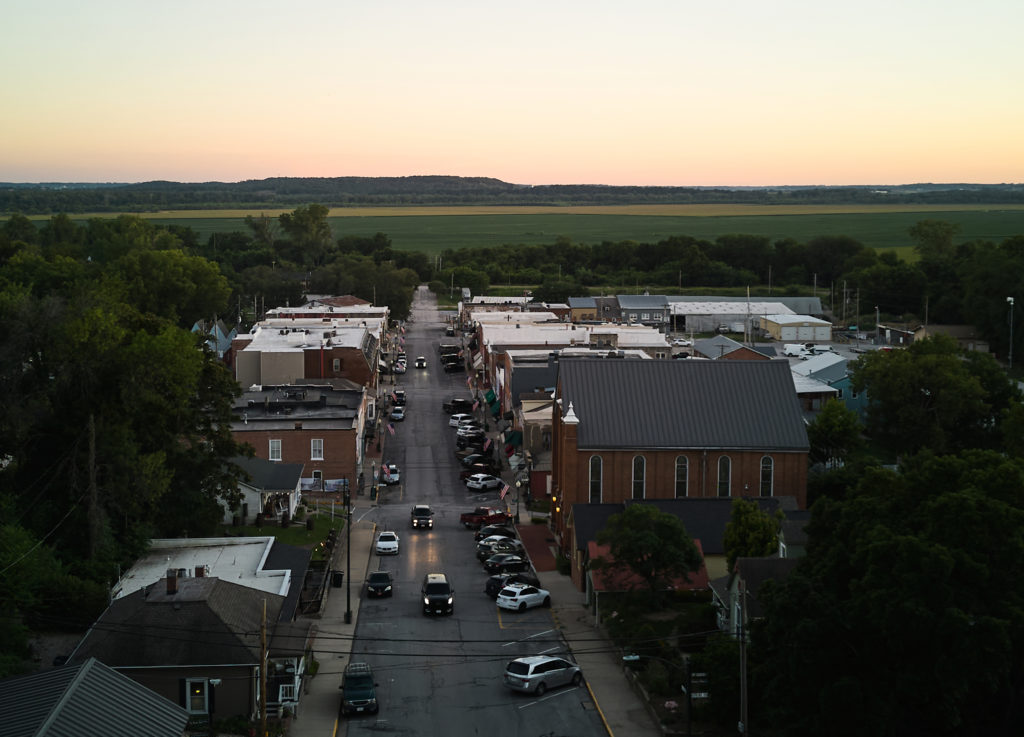 PHOTOGRAPHY BY CALEB CONDIT AND REBECCA NORDEN


Arrow To Cross
ARROW ROCK, MO. | POPULATION 37
Arrow Rock was founded in 1829 on the bluff above a ferry crossing at the intersection of the Missouri River and the Santa Fe Trail. There's so much history there that in 1963, the entire town was designated a National Historic Landmark.
When the Civil War began, Arrow Rock reached its peak population of a thousand people. To get a feel for the history of that time, take a stroll through the streets of this now-quiet little village lined with historical buildings. Markers are in place detailing information about each site. A visitor's center museum features exhibits that explain how Arrow Rock played a role in westward expansion, state commerce, slavery and the Civil War. Explore the old courthouse, the stone jail and the home of artist George Caleb Bingham.
Stop for lunch at Catalpa (302 Main St.), a surprisingly modern restaurant with chef-made hamburgers, pizza and cocktails. The food is delicious and the decor is cool and contemporary, but the gold toilet in an Instagram-worthy bathroom is the talk of the town.
After lunch, peruse the antique shops. Arrow Rock Antiques and Mercantile (314 Main St.) features antiques, pottery, unique gifts and jewelry. Stop in to The Badger's Hideaway (306 Main St.) for a homemade ice cream cone. The Arrow Rock Mud is one of their most popular flavors—caramel with a muddy fudge layer. Need a handcrafted powder horn? You can pick one up at Thunder Lodge Trading Company (212 High St.). 
Plan your visit around a show at the Arrow Rock Lyceum Theatre (114 High St.), housed in an old church. The Lyceum started in 1961 and continues to entertain audiences with Broadway-caliber productions by professional theater artists from around the country. Your trip wouldn't be complete without a stop across town at the J. Huston Tavern (305 Main St.) for dinner. The Tavern was established in 1834 for travelers along the Santa Fe Trail to stop and get a meal, and it has been in business ever since. It claims to be the oldest continuously serving restaurant west of the Mississippi River.
You won't find a hotel chain in Arrow Rock, but you will find some charming Airbnb rentals, like the Latch House and The Lindsey House. For an old-fashioned inn experience, but with modern amenities, try the Flint Creek Inn (507 Seventh St.). If you prefer the outdoors, Arrow Rock State Historic Site (39521 Visitor Center Drive) has camping areas for both tents and RVs. —Kim Horgan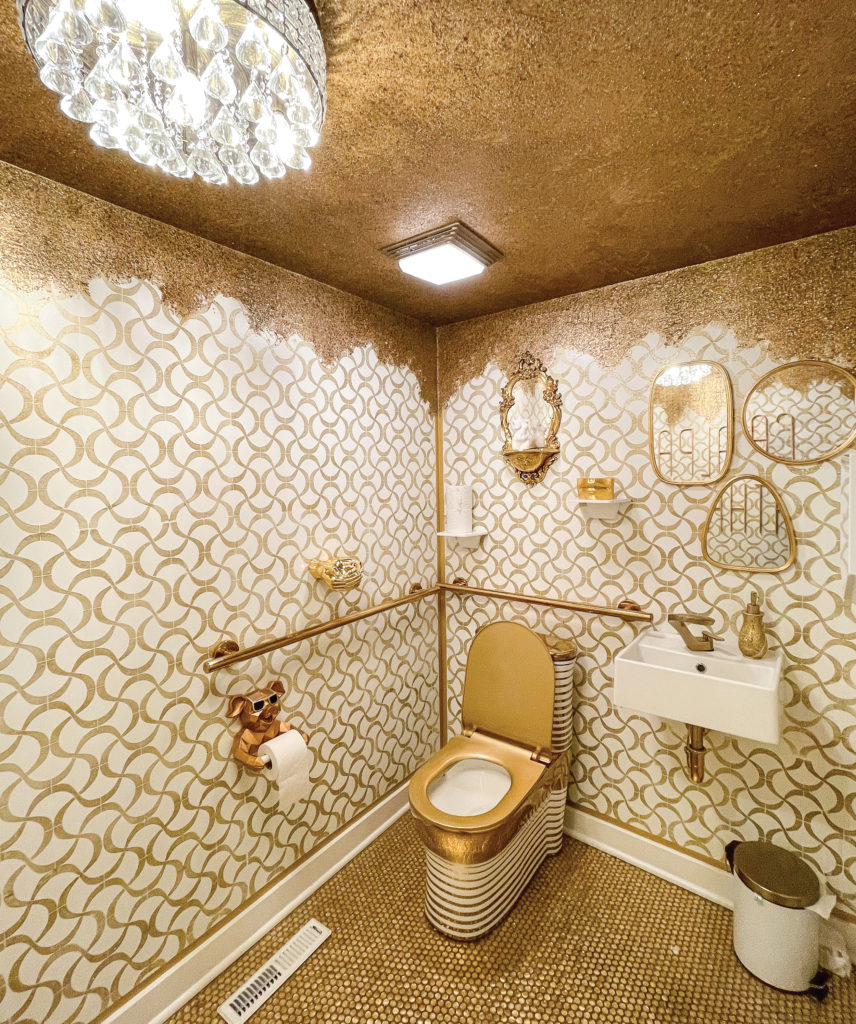 CATALPA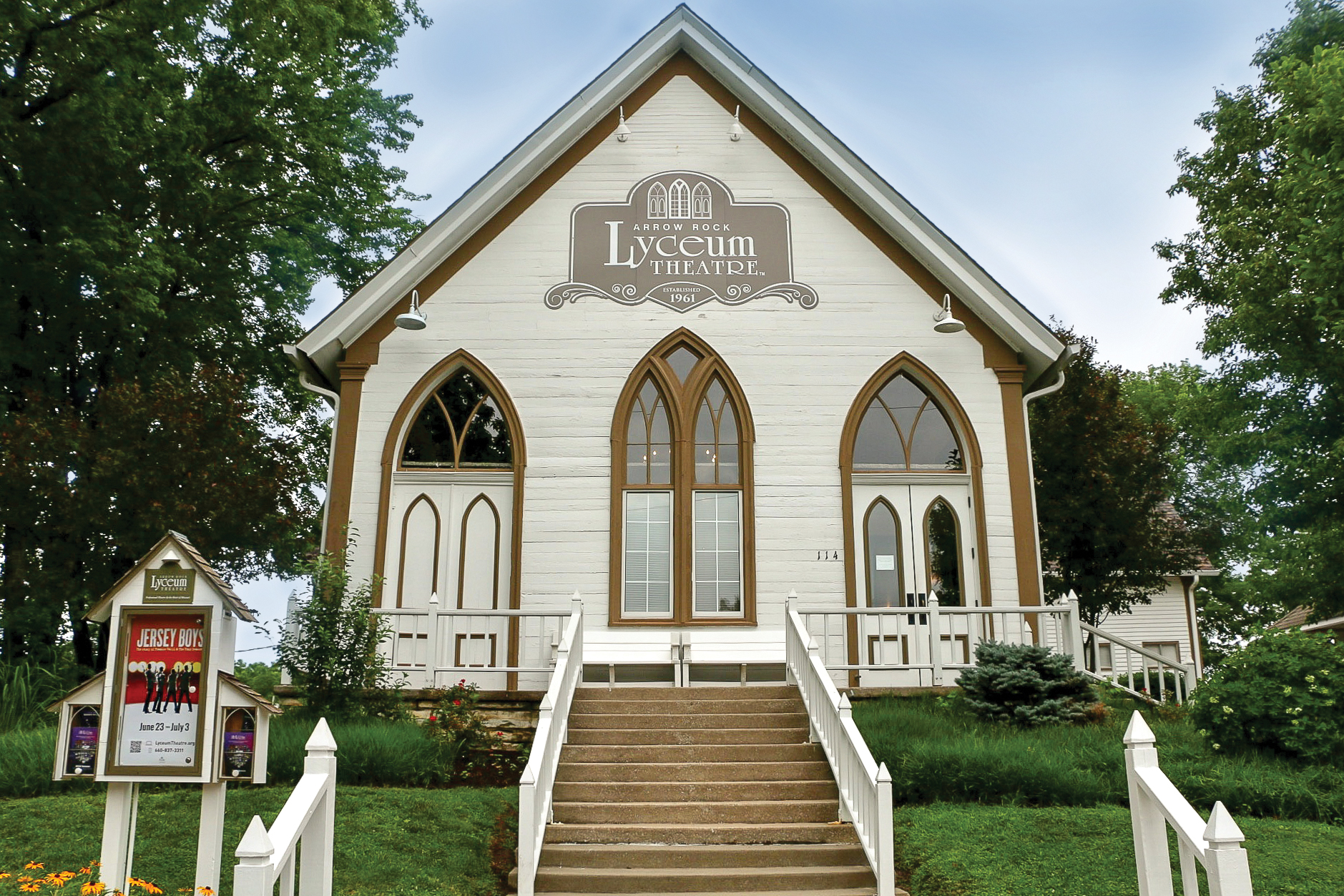 PHOTOGRAPHY BY KIM HORGAN

GUIDED TOUR
Springdale
ARK. | POPULATION 80,433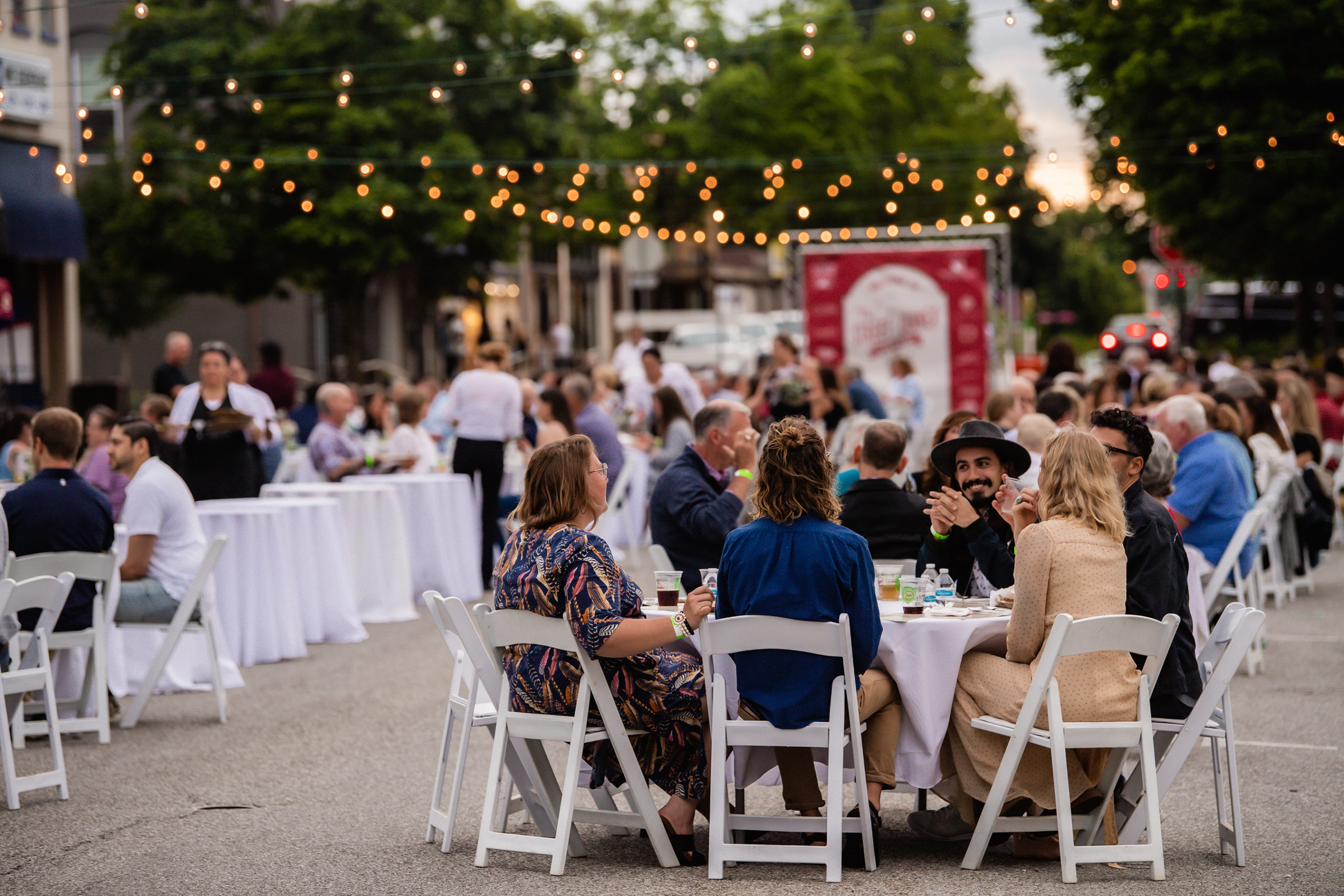 ROOTS: The town was known as Shiloh originally before incorporating as Springdale in 1878. The region was once famous for its many apple orchards. Today, Springdale is home to the world headquarters of Tyson Foods, the nation's premier producer of protein. Springdale is also home to one of the largest Hispanic populations in the state and the largest population of Marshall Islanders in the world outside of the Marshall Islands. The influx of Marshallese to the area has helped fuel Springdale's economic growth. The Shiloh Museum of Ozark History in Springdale is a wonderful resource for learning about the history of the area.
POINTS OF PRIDE: Springdale residents are typically proud of what they refer to as their "can-do attitude." Springdale is one of the state's top job-producing cities, and it's blessed with a diverse economy. Taxpayers have consistently approved bond issues to fund municipal infrastructure and quality of life. Home to the state's largest and most innovative school district, with more than fifty different languages spoken in students' homes, the state's fourth-largest city stands strong in a region known for entrepreneurial success.
DON'T MISS: Springdale is the home of the Northwest Arkansas Naturals minor league baseball team, the Double-A affiliate of the Kansas City Royals. Cycling is big in Northwest Arkansas, and Springdale is no exception. For mountain bike enthusiasts, Fitzgerald Mountain trail, known as The Best Trail Ever, is a big draw. For more casual riders, the forty-mile Razorback Greenway paved trail runs through the heart of Springdale. The Arkansas & Missouri Railroad is a historic railroad based in Springdale that offers excursion rides through the Boston Mountains on restored train cars.
EAT UP: Springdale has a thriving culinary scene, with both new and staple restaurants that have been making great food for generations. To name just a few: Na'guara (a Venezuelan food truck), Taquería don Güero, AQ Chicken House and Big Sexy Food. —Wesley Oliver, Springdale Chamber of Commerce
A Fine Collection
ROCHEPORT, MO. | POPULATION 226
Since before colonization, Rocheport, Missouri, has been a great stopping point due to its location on the north bank of the Missouri River. Early residents came from the East and reproduced the simple, classical architecture they knew well. Those buildings are what give Rocheport its charm today. The town, with a population of just over two hundred people, has eighty historically significant buildings dating from the first quarter of the nineteenth century. In this small area, you will find antique shops, cafes and businesses. 
A great place to start your visit is the Art & Antiques and Blacksmith Shop (605 Third St.), located in a pre-Civil War house where you can find original art, antiques, a working blacksmith shop, estate jewelry and gifts. Then walk on over to Southern Provisions (204 Second St.) for everything from home goods and textiles to cigars.
Rocheport is a beloved stop on the Katy Trail, which carries cyclists across Missouri. After shopping, stop in for lunch at the Meriwether Cafe and Bike Shop (700 First St.). You can sit outside at one of the many tables topped with colorful umbrellas. After you eat, rent a bike and head out for a spin. The cafe is just steps from the Katy, and the crushed limestone trail takes you along the river and under a canopy of trees. You can head east and ride along the steep bluffs or go west through the picturesque old railroad tunnel.
Post-bike ride, head to Les Bourgeois Vineyards and Blufftop Bistro (14020 W. Hwy BB) for dinner at the full-service restaurant with indoor or outdoor dining. Plan to be there early in the evening so you can enjoy a glass of award-winning wine while watching the sunset on the river. For a more casual experience, try their A-Frame Winegarden.
There are several quaint places to stay in Rocheport. If you are on a cycling trip, we like the Katy Trail B & B (101 Lewis St.), an affordable option located right on the trail with a stocked kitchen to make your own breakfast. If you prefer a more traditional B&B experience, try the School House Bed and Breakfast (504 Third St.) situated in a wonderfully restored three-story brick building that originally served as Rocheport's public school. —Kim Horgan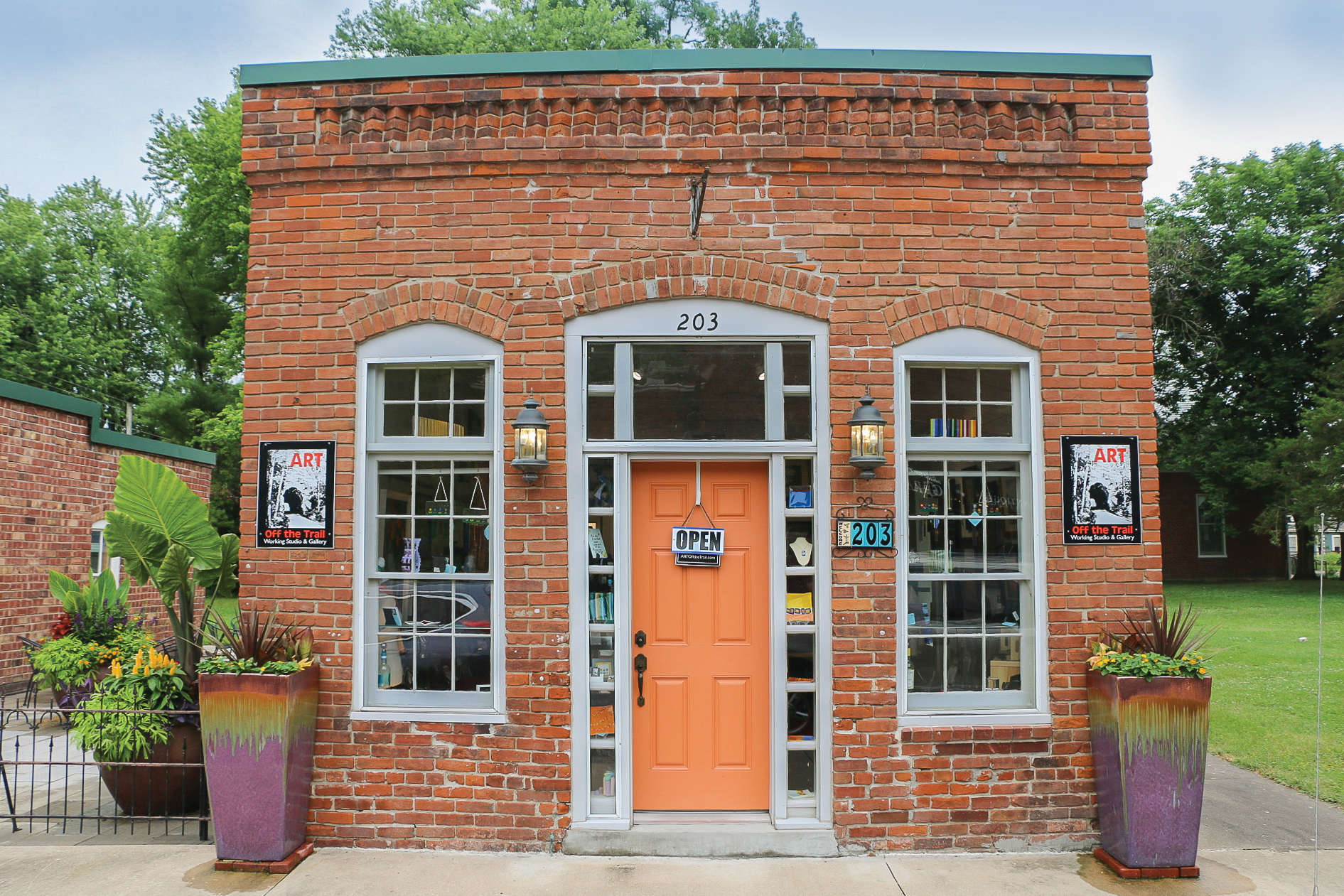 PHOTOGRAPHY BY KIM HORGAN


Small and Swedish 
LINDSBORG, KAN. | POPULATION 3,294
Lindsborg, Kansas, was settled by a group of Swedish immigrants in 1869 and has since become known as Little Sweden. This gem is located in McPherson County, just three hours from Kansas City.
The buildings in downtown Lindsborg date to the late 1800s—stick close to the square for the cute shops, delicious restaurants and charming Dala horse sculptures. The Swedish flag also flies on street corners and in front of many businesses.
Start your day by fueling up with coffee and a house-made pastry at Blacksmith Coffee Shop & Roastery (122 N. Main St.), located in an old blacksmith shop. The historic building still houses the original forge and anvil, along with an antique lumber wagon turned into an espresso bar.
Just across the street, you will find the wonderful shop Hemslojd Swedish Gifts (201 N. Main St.). They sell custom handmade clothing, Swedish food, books, music, and Dala horses just like the ones you'll see all over town. 
Peruse a few local galleries, like Small World Gallery (127 N. Main St.), featuring the stunning photography of Jim Richardson and the handmade jewelry of Kathy Richardson.
Walk a few blocks to the Birger Sandzén Memorial Gallery (401 N. First St.), a gallery dedicated to the work of artist Birger Sandzén, a Swedish painter and printmaker who taught for years at Bethany College in Lindsborg.
Grab a bite and a beer at Öl Stuga (Ale House) tavern (119 S. Main St.). Two things to know about Öl Stuga: First, Mikhail Gorbachev stopped in at Öl Stuga for drinks while visiting Lindsborg to deliver a speech at Bethany College in 2005. Second, their famous Brent Nelson sandwich was featured on Good Morning America.
Satisfy your sweet tooth with Swedish pancakes smothered in whipped cream, lingonberries and syrup at The White Peacock (124 S. Main St.), a cozy little coffee shop that serves breakfast and lunch.
Make sure to pencil in time to take in the gorgeous view at Coronado Heights, a stone castle overlook built during the Great Depression and named for the explorer Francisco Vázquez de Coronado. A ten-minute drive from town, it's a favorite spot to gather with friends and picnic at sunset.
Lindsborg is a relatively quiet town, but crowds gather for festivals. They have a  Midsummer's Festival that takes place in late June that features Swedish food, music, dancing and the raising of the Midsommarstång (Midsummer Pole.)
The largest festival, Svensk Hyllningsfest, is held every two years and honors the Swedish immigrants who first settled the town in 1869. It features art and crafts, ethnic music, a parade and, of course, an authentic Swedish Smörgåsbord with six thousand meatballs.
In December, the St. Lucia Festival, a favorite Swedish holiday tradition, celebrates the legend of Lucia, the Patron Saint of Light. While nothing can replace the excitement of Lindsborg during a festival, this small Kansas town delivers a big dose of charm any time of year.
Stay at the Rosberg House Bed & Breakfast (103 E. State St.), a charming Queen Anne Victorian home just steps away from downtown Lindsborg with a large front porch and beautiful gardens. —Kim Horgan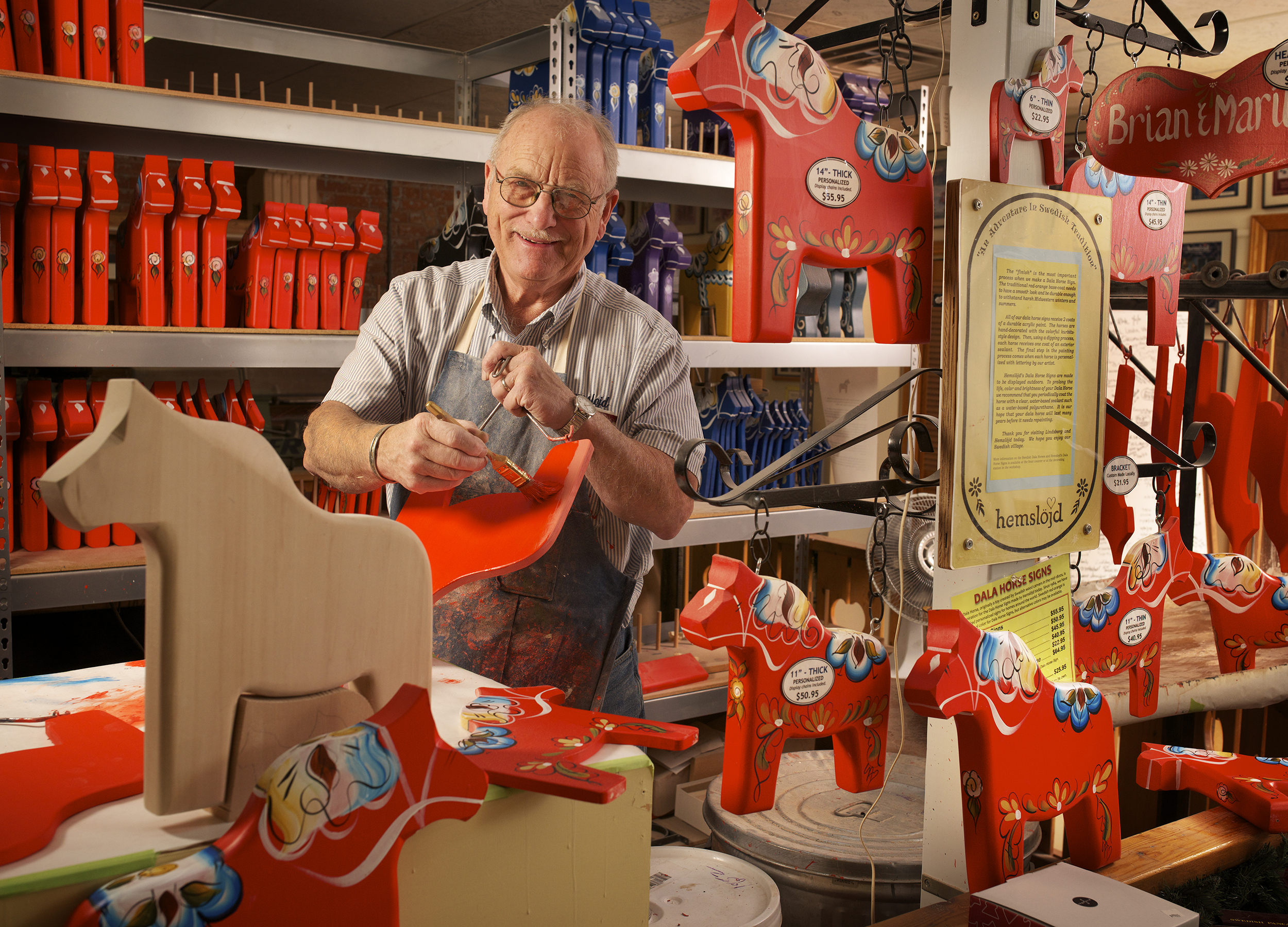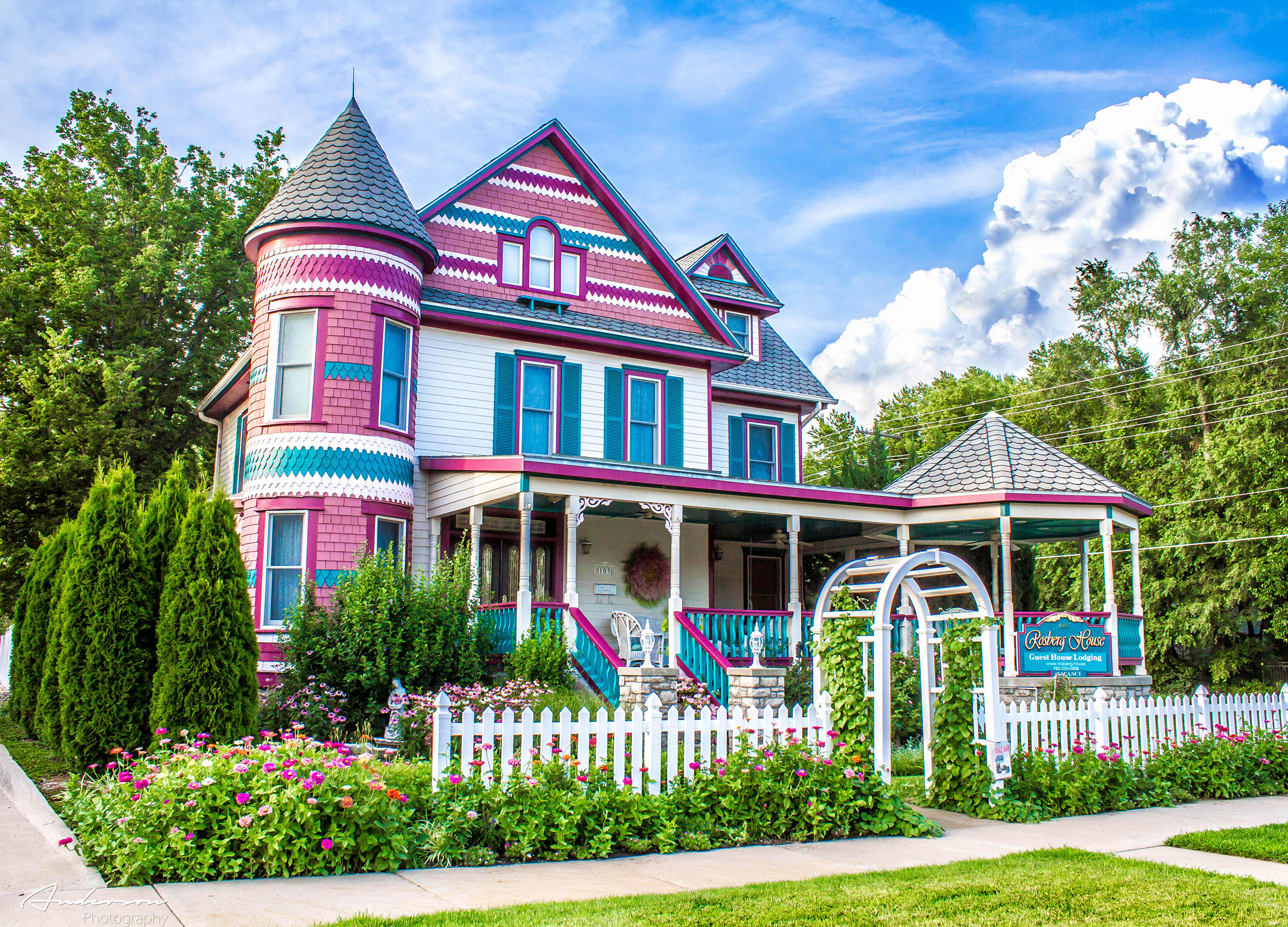 ROSBERG HOUSE BED & BREAKFAST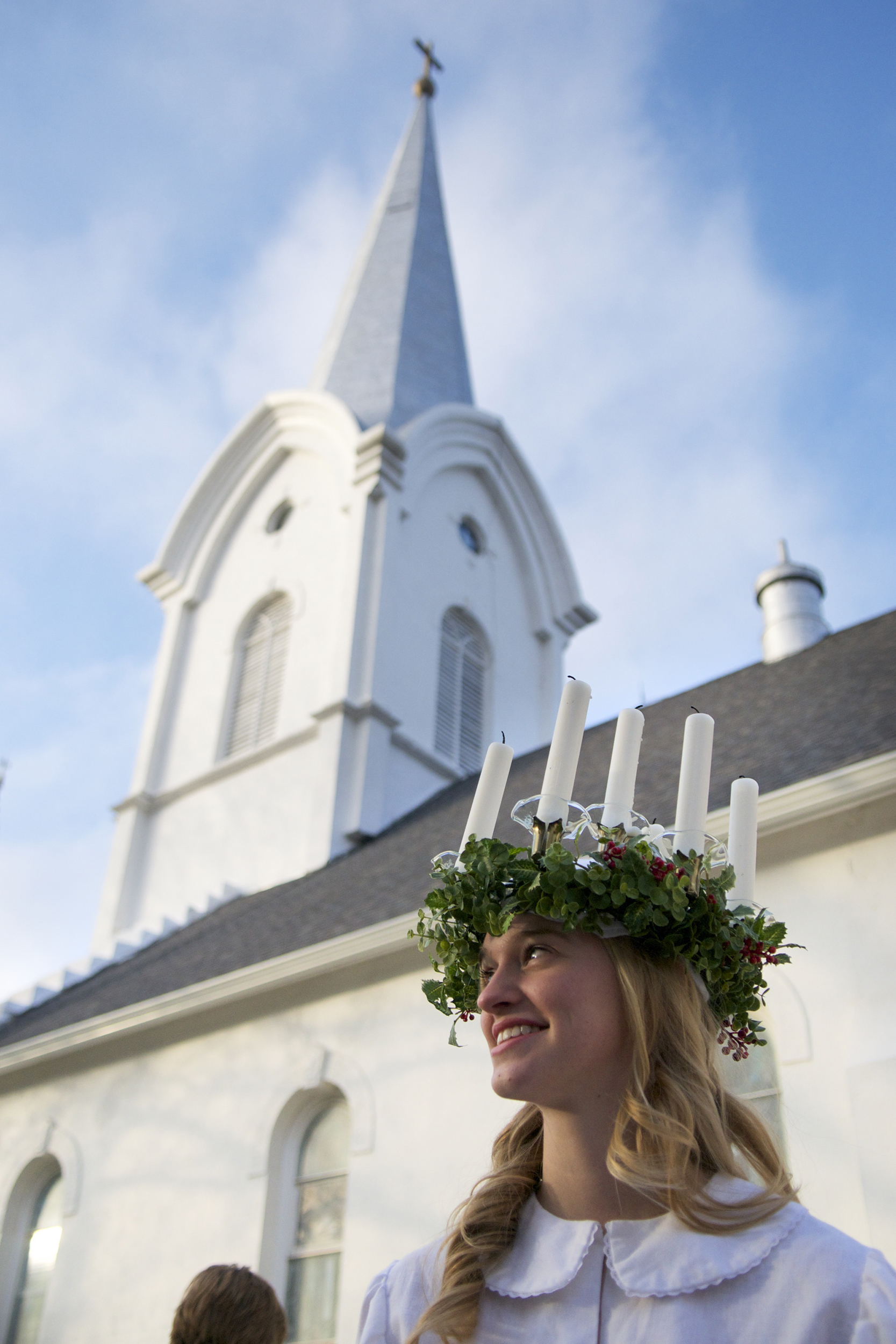 West of Philadelphia
HERMANN, MO. | POPULATION 2,375
California wine country has its appeal, but have you seen the traffic? For a more low-key, relaxing wine weekend, head to Hermann.
In 1836, the German Settlement Society of Philadelphia formed. Its purpose was to establish a colony where German language and customs could be preserved. Settled in 1837, Hermann was chosen for its luscious green scenery and rolling hills reminiscent of the Rhine River Valley. 
This river town is steeped in character and surrounded by wineries, many of which have been in the area since the town was established. After a pause for Prohibition, the wine industry resumed in Hermann and continues to grow. The downtown area is filled with nineteenth century brick buildings. You'll find restaurants, antique shops and coffee shops, as well as a vending machine stocked with meat. 
Start your Hermann trip with a wine tasting. Stone Hill Winery (1110 Stone Hill Highway) is our favorite. Established in 1847, Stone Hill was at one point the second biggest winery in the United States. It shut down during Prohibition and became a mushroom growing facility (supplying shrooms to Campbell's Soup) before reopening. Take the winery tour—it's free and full of fascinating history. Then head to the tasting room and try some of their award-winning pours. We like the Ozark Hellbender.
If you want a break from wine, try the Tin Mill Brewing Co. (114 Gutenberg St.) in downtown Hermann, where the beers are made in accordance with the German Purity Law of 1516, meaning they include only the traditional ingredients of water, hops and barley. They have twenty taps, four year-round stalwarts and the rest rotating. Their outdoor seating area is perfect for a crisp fall day.
For lunch, walk over to The Concert Hall and Barrel Tavern (206 E. First St.). They have a comfortable, welcoming vibe and a wonderful flat crust pizza. Built in 1878, the Concert Hall claims to be the oldest continually operating tavern west of the Mississippi.
If you'd like to go a bit more upscale, check out Fernweh Distilling Co. (4 Shiller St.), a small-batch distillery with a beautiful bar and restaurant. The spinach artichoke dip is house-made, whipped and indescribably wonderful.
When planning your Hermann visit, keep in mind that Oktoberfest is the busiest time of the year, with activities and celebrations all month. You'll need to plan ahead to get accommodations. Don't feel like driving? Amtrak will drop you just steps from downtown. Want to get outside between wine tastings and beer flights? Bring your bike. The Katy Trail is just a mile north of town.
Book a room at the Vinchester Inn (vinchesterinn.com) for its prime location and homey, hip charm. Bring a bottle back to your bistro table for two—they even supply a wine opener and glasses. —Kim Horgan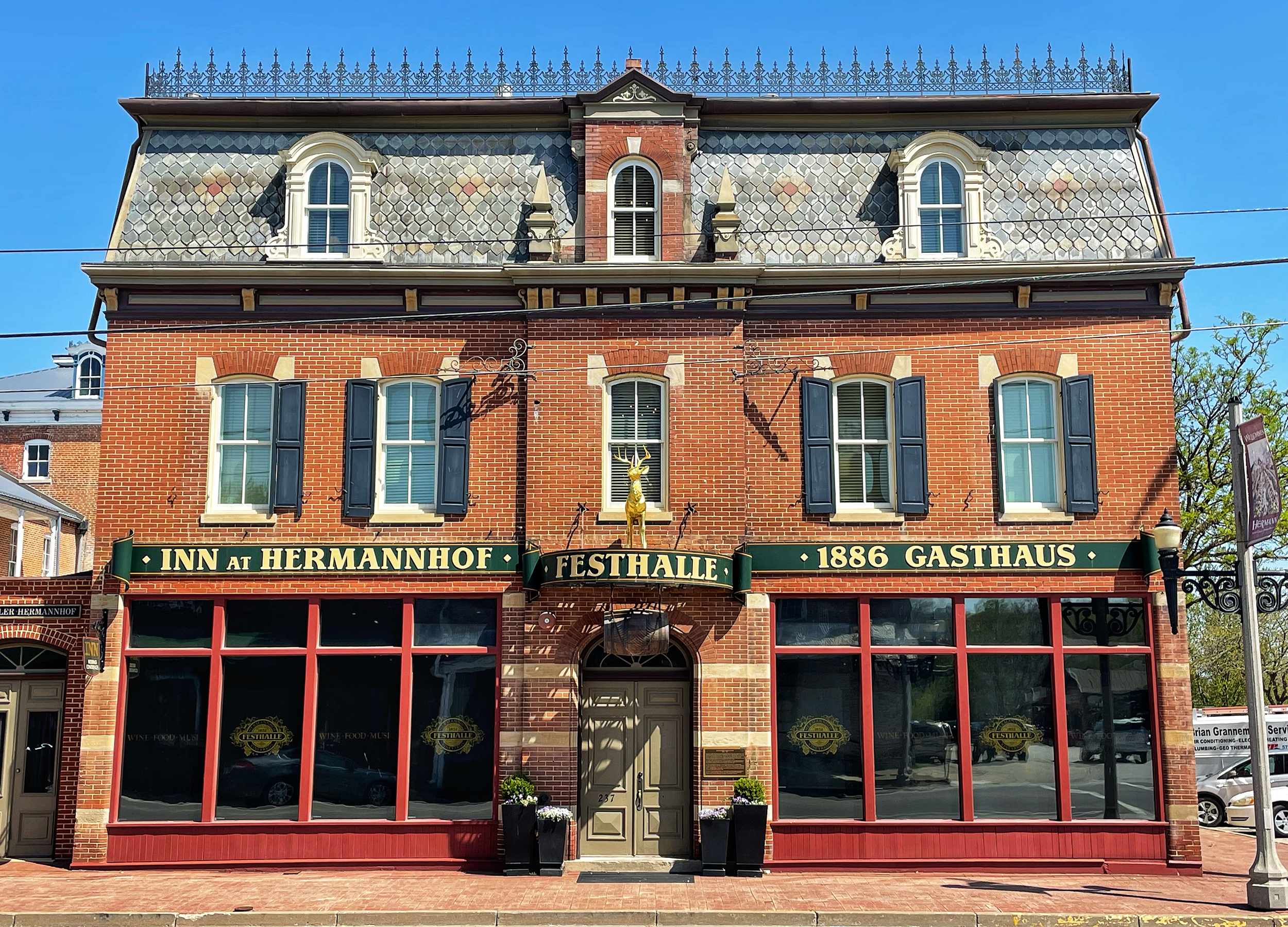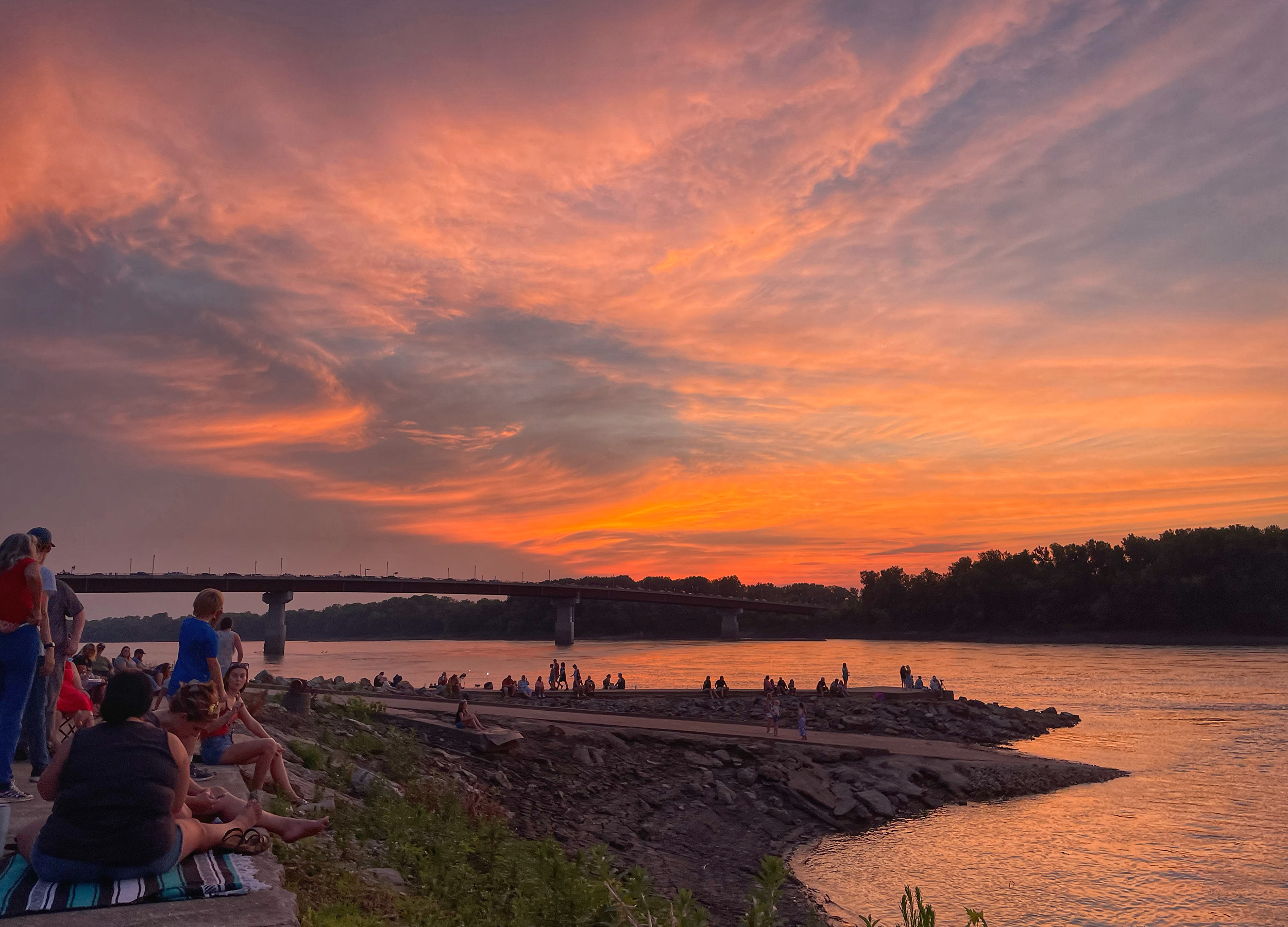 PHOTOGRAPHY BY KIM HORGAN

GUIDED TOUR
Grand Lake
OK. | POPULATION 203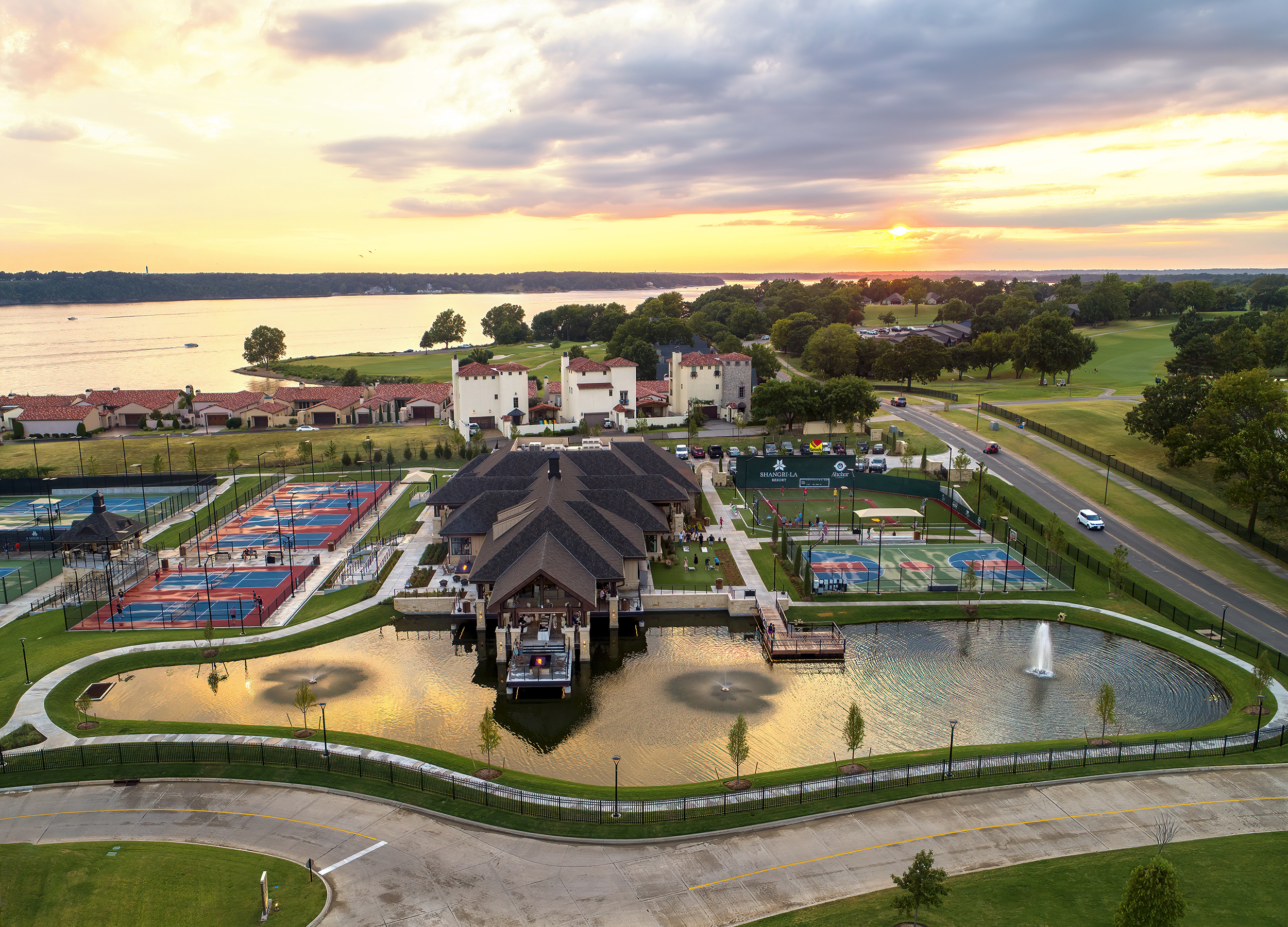 ROOTS: Grand Lake O' the Cherokees started with the construction of the Pensacola Dam, a project of the Works Progress Administration that was completed in March 1940, creating the lake behind it. At five thousand six hundred feet long Pensacola Dam is claimed to be the longest multiple arch dam in the world. Locals lobbied for that dam for generations—eventually making their case directly to President Franklin Roosevelt, who was coming through on a train, by passing an ordinance that said "any train bearing the President of the United States" had to stop so the President could make a ten-minute appearance on the platform." A crowd of five-thousand and a massive sign convinced him to pursue the project.
POINTS OF PRIDE: Grand Lake was the first large lake in Oklahoma and is still the state's most popular. There are eleven major marinas, numerous smaller marinas and community docks, and more than six thousand private docks. Grand Lake is a mecca for boaters and is also one of the premier bass fishing lakes in the U.S. Anglers also flock to the lake for the huge catfish, hybrid stripers, crappies and bluegill. The lake also has the distinction of being home to more prehistoric paddlefish than anywhere else in the world.
Grand Lake is a surprisingly short drive from the Kansas City area and offers a much less congested lake than Missouri destinations. It's almost exactly three hours straight south on I-49.
DON'T MISS: The lake and the establishments on it—many have their own docks. Prior to construction of the Pensacola Dam creating Grand Lake, northeastern Oklahoma was a very poor area, with farming as virtually the only income opportunity. Today, Grand Lake is widely referred to as "The Crown Jewel of Oklahoma," offering virtually every imaginable option for dining, drinking, boating, swimming, camping, golf, pickleball, tennis, wake surfing and more.
EAT UP: Shangri-La is the top choice for lodging. The newly renovated Shangri-la Golf Club and Resort is situated on Monkey Island, an island within an inland, and includes a world-class golf course, marina and lots of ways to entertain the family. Thousand Oaks Resort offers private cabins with hot tubs, fire pits, a swimming pool and outdoor activities. Pine Lodge Resort offers log cabins for around $150 per night. Bernice State Park is known as the "crappie capital of the world." It is also a popular campsite with primitive tent sites and RV hookups. —Mike Williams of Shangri-La
Chasing Waterfalls 
COTTONWOOD FALLS, KAN. | POPULATION 817
About twenty miles west of Emporia, in the scenic Flint Hills, lies Cottonwood Falls. Fewer than a thousand people live in the small town, which was first settled as a cattle ranch along Cottonwood River in 1854. By 1872, the Chase County Courthouse (300 Pearl St.) that sits at the head of Broadway Street was built. Broadway is just short of three blocks and home to art galleries, boutiques, antique shops and a few bars. The street is still cobblestoned, and at the opposite end of the courthouse is the historic Cottonwood River Bridge (108 Broadway St.), a stone bridge just two blocks from the Flint Hills Scenic Byway and one of the eight wonders of Kansas. 
The courthouse is a French Renaissance-style building of limestone known for its distinctive red mansard roof. It's also the oldest Kansas courthouse still in use. If you're in Cottonwood Falls, touring the courthouse and climbing its three-story spiral staircase made from walnut trees from the Cottonwood River is a must. 
Of the handful of businesses on Broadway, two are antique stores—Tallgrass Antiques (314 Broadway St.) and The Vintage Bulldog (315 Broadway St.). Tallgrass has larger antiques, like furniture, signs and light fixtures. The Vintage Bulldog has smaller knick knacks, including an impressive collection of vintage Pyrex and glassware.   
In addition to a couple of art galleries, an ice cream shop and a coffee shop, there's Doghouse Saloon (311 Broadway St.), a charming bar with brick walls and a tin ceiling. While the space became Doghouse Saloon in 2020, the historic building preserves the small-town bar charm, complete with billiards in the back. 
If you want to know more about the area, the Chase County Historical Society & Museum (301 Broadway St.) is on the main strip, too. The museum and library are housed in two native limestone buildings and have local artifacts from the mid-19th century to the present. Like the rest of the quaint Cottonwood Falls, it provides a slice of preserved history. If you're traveling west from Kansas City, Cottonwood Falls is a great spot to get out, stretch your legs, explore and take in views from the top of one of the greatest courthouses we've ever seen. —Mary Henn
PHOTOGRAPHY BY KEN STAFFORD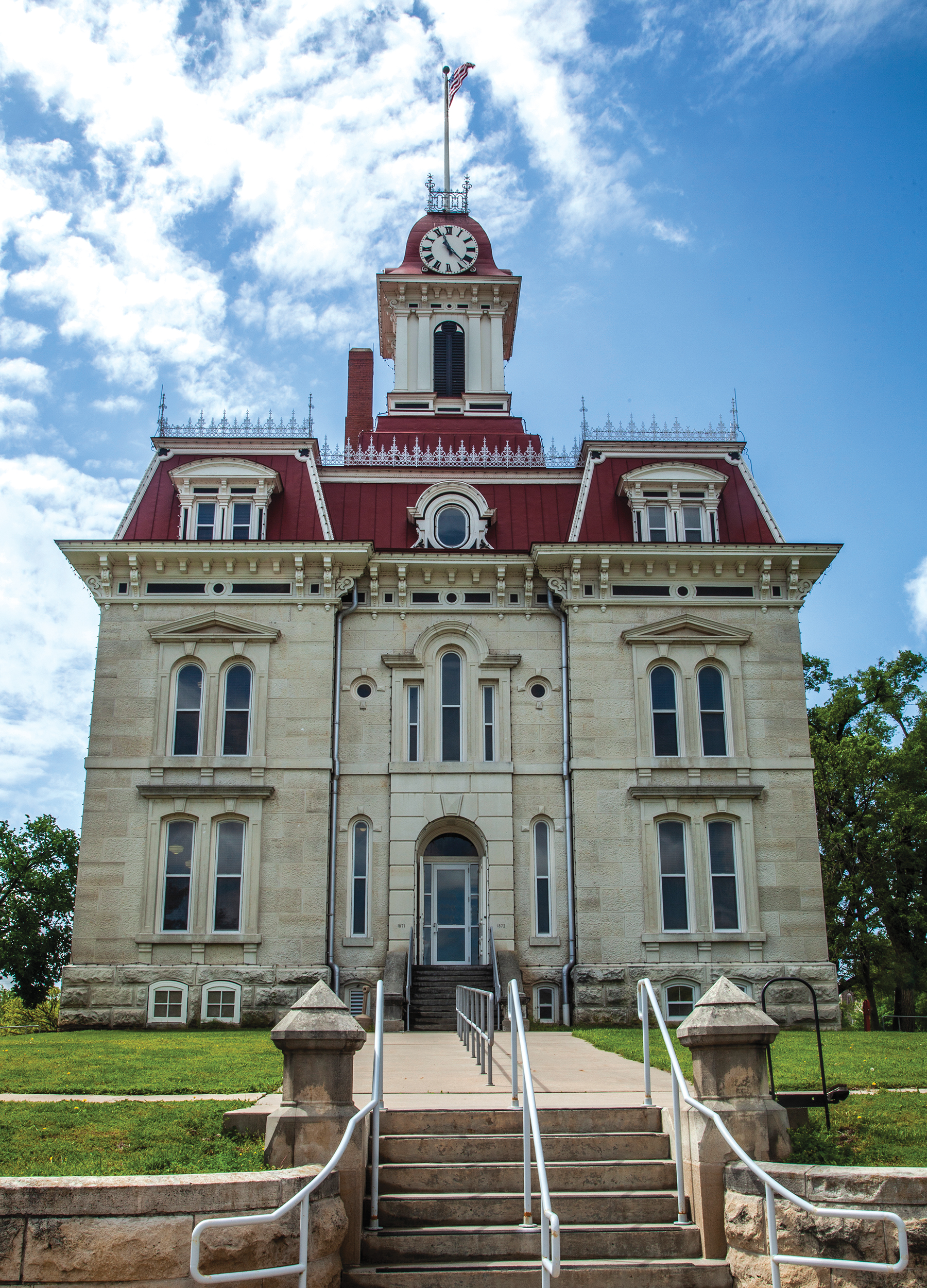 Little Town on the Prairie 
EMPORIA, KAN. | POPULATION 24,631
In between Topeka and Wichita, among the open grasslands of Kansas, is Emporia, one of the bigger small towns on our list with a population of just over twenty-four thousand. Emporia was founded by five men from Lawrence in 1857 and was the first Prohibition town in the world—more than sixty years before the national booze ban. By the 1880s, two colleges had been established in the area. Today, Emporia State University is known for its Teachers College, and Emporia is still very much a college town. 
There are a handful of local landmarks that have made it on the National Register of Historic Places, like the Granada Theater (807 Commercial St.) downtown, which was restored in the early 2000s as a concert venue and community space. Just a few blocks from the theater, you'll find Radius Brewing (610 Merchant St.), the town's first brewery since prohibition. While Radius keeps some traditional brews on tap, they also experiment some with creations like their Chile Margarita Gose. They also have a full food menu and a happy hour with prices that remind you just how far outside Kansas City you are. 
If you're looking for something a little stronger, you can head just a mile south to Trolley House Distillery (502 S. Commercial St.), a moonshine distillery that opened during the pandemic. Trolley House makes six different flavors of moonshine, including butterscotch. They also offer moonshine cocktails—and trust us, one will do the trick. 
Last but not least in the Emporia bar roundup is Mulready's Pub (717 Commercial St.), a spot with classic college bar vibes. Mulready's was recently dubbed the best bar in the Flint Hills, and it has the largest selection of craft beer in the area, with twenty-three taps. There's also a beer garden in the back, perfect for sipping on a nice day or listening to the live music that comes through. 
There is more to do in Emporia than drink, however. There are parks, like Peter Pan Park (425 S. Congress St.), which sits against the Cottonwood River. There are also small museums and historic sites, like the Historic Home of William Allen White (927 Exchange St.), a Pulitzer-winning journalist from Emporia. Whatever you decide to do in Emporia, it's worth a visit if you're looking for a quick escape from city life, and there's enough in Emporia to keep you busy for a few days. —Mary Henn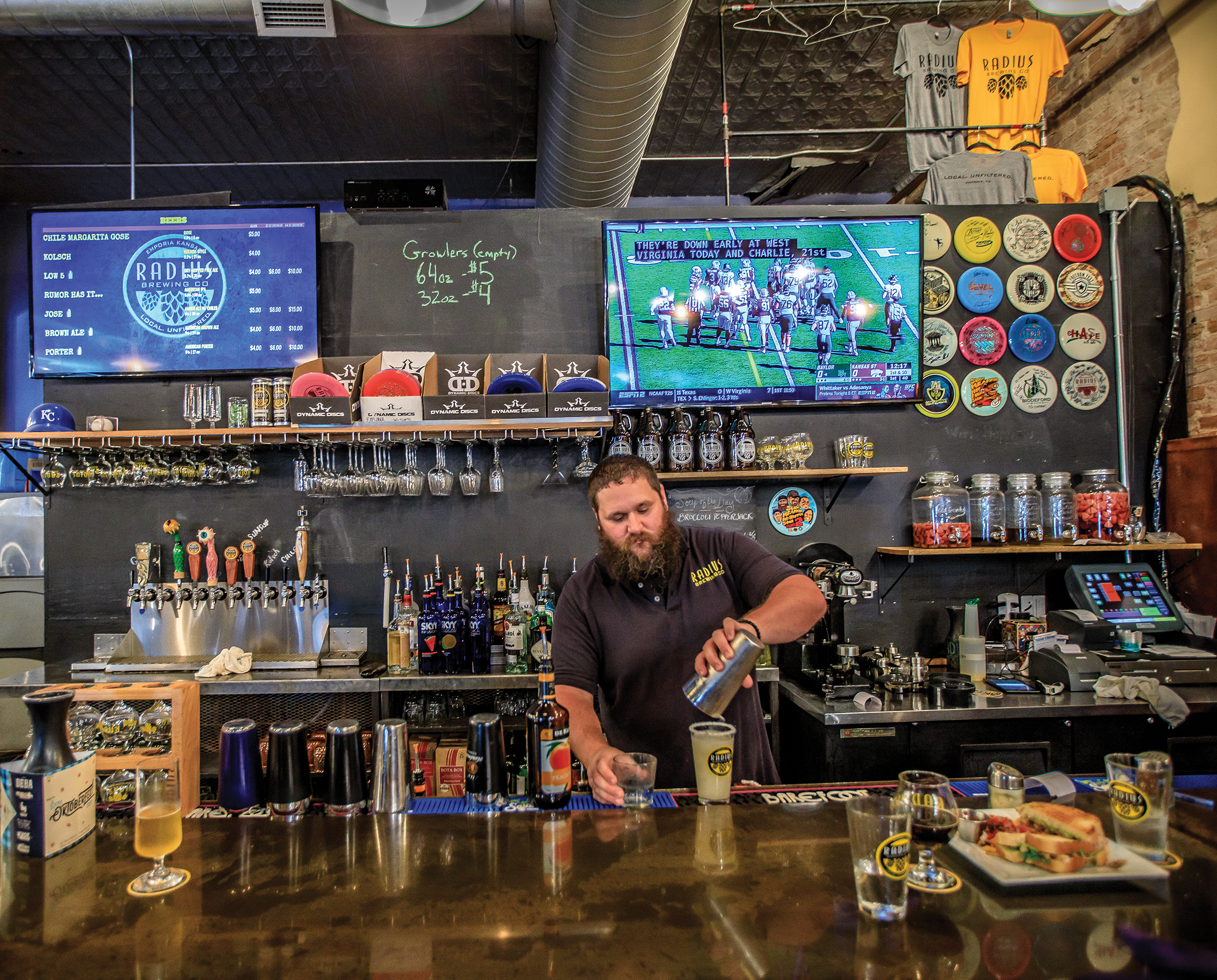 RADIUS BREWING PHOTOGRAPHY BY JEFF GALLEMORE


Silver and Gold
BRANSON, MO. | POPULATION 11,526
In some ways, Branson is the opposite of what you picture when you think of a small town—the bright lights of the city's showrooms draw tourists from all over the world to the Ozark Mountains.
But despite the resorts, racetracks and roller coasters, Branson remains a small town, with twelve thousand people and down-home charm bursting from between the cracks of the downtown strip. If it's not a small town in a traditional sense, then it's the theme park version, which suits us just fine.
Plan your trip to Branson around a stop at Silver Dollar City, which, since 1960, has sat on a peninsula jutting into Table Rock Lake. The park is situated on the area's original tourism draw, a massive cave that had once been a lead mine. The park takes its theme from settler life in the years after the Civil War, with coasters like Powder Keg and Outlaw Run playing on the past. While the thrill rides are the main draw, Silver Dollar City puts more effort into entertainment (live bluegrass) and ambiance (blacksmithing, a cow-milking display, Sunday services at an old Ozarks church) than most modern theme parks. For country music fans, September is an especially good time to visit, as the park's amphitheater hosts a series of shows.
Branson has classic comfort food on nearly every corner—the gravy flows like water here—but being a big small town with lots of tourists, you've also got a half-dozen sushi restaurants to choose from. The bento boxes and rolls at Mitsu Neko Fusion Cuisine & Sushi (1819 W. 76 Country Blvd.) are low-key, inexpensive and a welcome break from fried chicken. You're right next door to Billy Bob's Dairyland (1829 W. 76 Country Blvd.), a legendary cash-only local diner with killer banana splits. 
The other can't-miss activity in Branson is go-karting—a way of life in these hills. The Track Family Fun Parks (bransontracks.com) operates fourteen different tracks up and down the strip in Branson, ranging from standard flat ovals to a wooden spiral that climbs four rickety stories before dumping you back down the hill.
When it comes to picking a place to stay in Branson, we recommend The Chateau on the Lake (chateauonthelake.com), which sits a little outside of town away from the hustle and bustle of the strip. The large resort hotel is perched on a hill overlooking Table Rock Lake and has its own marina and spa in addition to a pool that overlooks the lake. —Martin Cizmar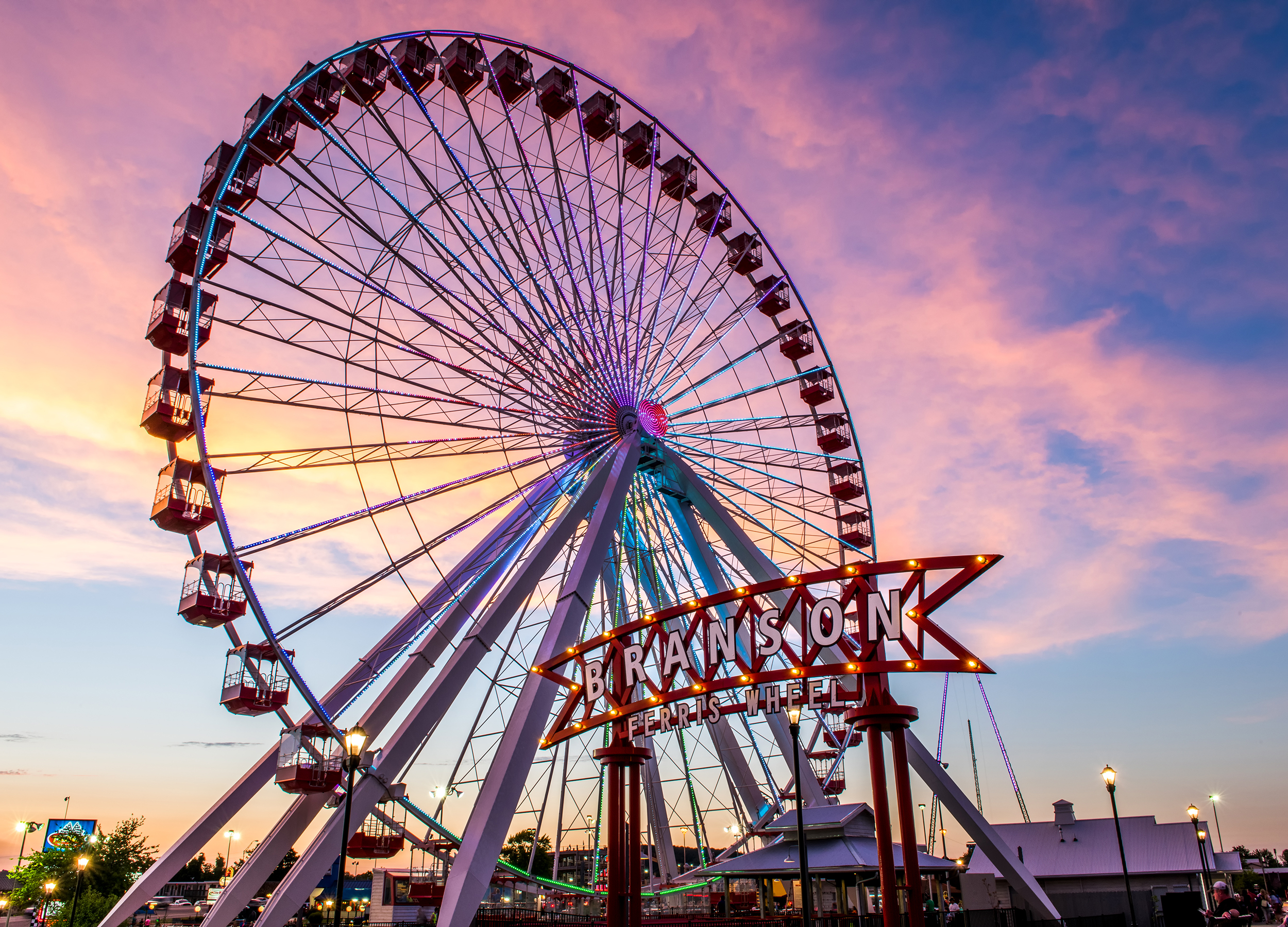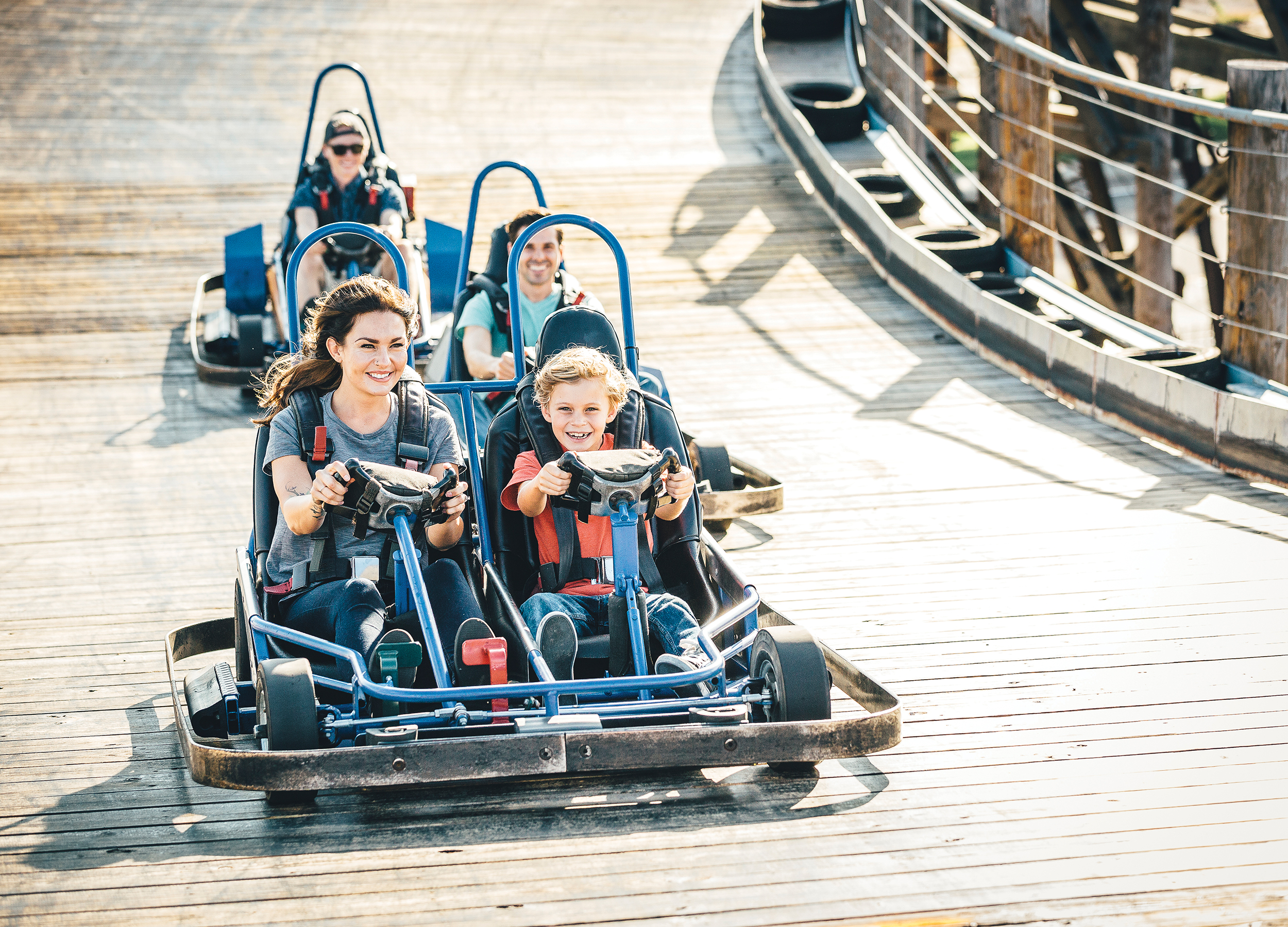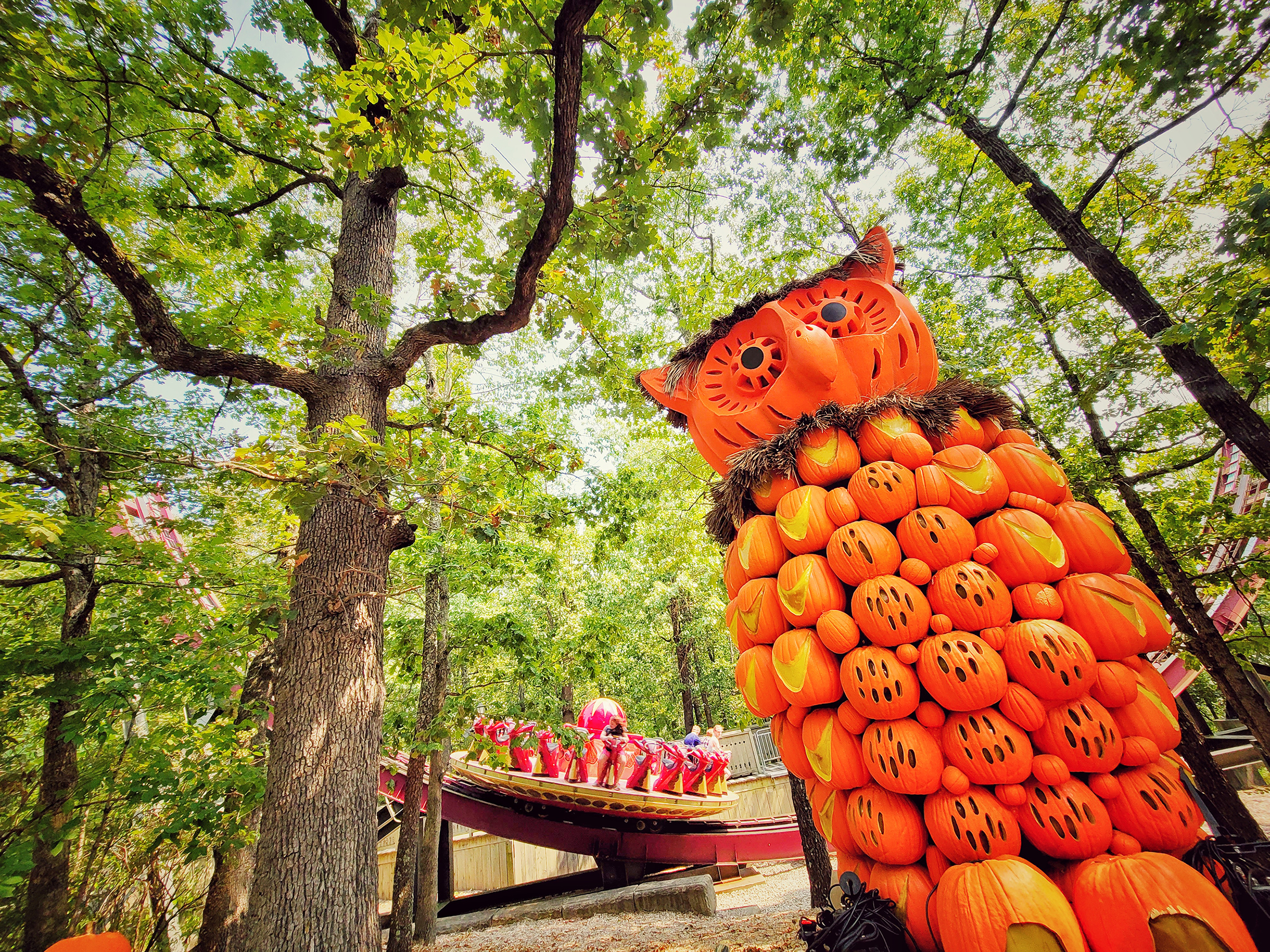 Hills of Healing and Haunting
EUREKA SPRINGS, ARK. | POPULATION 2,397
The charms of Eureka Springs start with the scenery: The Arkansas town lies in the mountains midway between the Natural States' Boston and Ozark mountain ranges. Buildings are scattered along steep hillsides and nestled in the winding streets of the city, each one unusual and with different architectural influences. Streets were laid out following old pre-settlement paths, which followed the way of least resistance to the springs and remain winding and wonderfully loopy. 
Many of the buildings are Victorian-era, brightly painted, surrounded by the beauty of the green, rolling hills. The town is steeped with the history of healing waters and haunted happenings but with a dose of religion sprinkled on top. You'll see pride flags, biker bars and ghost tours all on the
same block. 
In the 1830s, visitors came seeking the healing powers of the natural spring waters, and the town springs became popular as a Victorian health resort. The city was officially founded and named on July 4, 1879. As word of Eureka's miraculous healing waters began to spread, thousands of visitors flocked to the area. Visitors still flock there today to shop the local businesses, ride the mountain bike trails, enjoy casual cafes and walk around the historic downtown.
Start your visit at Mud Street Cafe (22 S. Main St.). This cozy basement restaurant with stone walls filled with artwork serves breakfast and lunch. Try the Frisbee-sized pancakes and phenomenal cheese grits. Go early to avoid the lines.
After breakfast, wander and check out the shops and galleries. The downtown area has a huge variety of businesses including gift shops, clothing stores, a magic shop, jewelry and toy stores. You will undoubtedly find something that interests you. Be sure to stop in the Town Shop (9 Spring St.) for gifts, local handcrafted items, jewelry and pottery. 
When walking around town, notice the unique artwork, like Humpty Dumpty sitting on a wall, and the architecture, like the Flatiron Building dividing Main and Spring streets. The entire downtown area is on the National Register of Historic Places. And don't miss the famous rainbow staircase just off Center Street. You'll want to go down to snap a photo looking up, so prepare your legs for a workout. Just across town, you'll find the site of the Great Passion Play and one of the most famous area landmarks: Christ of the Ozarks, a sixty-five-foot-tall colossal statue of Jesus.
For dinner, be sure to try Ermilio's Italian Home Cooking (26 White St.), authentic Italian food in a charming little house just a few blocks from downtown. They start with fresh-baked bread with butter and crushed roasted garlic. Order the stuffed mushroom appetizers. After that, you can't go wrong with any item on the menu. They don't take reservations, and it is typically busy. 
Make time to drive just outside of town to see Thorncrown Chapel (12968 US-62), a beautiful glass and wood structure tucked into the trees. Designed by E. Fay Jones, the American Institute of Architects voted it one of the ten most important building designs of the twentieth century. 
Eureka Springs offers plenty of outdoor opportunities as well. There are a variety of trails for mountain bikers of any experience level, from beginners looking for a scenic ride to avid cyclists looking for a challenging day on the bike. Lake Leatherwood Park has over twenty-five miles of hiking and biking trails surrounding the spring-fed lake. 
Our favorite spot to stay is the 1886 Crescent Hotel (crescent-hotel.com). This historical hotel is surrounded by well-maintained gardens, features a spa, has the best view from the fourth-floor restaurant and bar and offers a ghost tour and a hotel cat. It's not often you find that combination. —Kim Horgan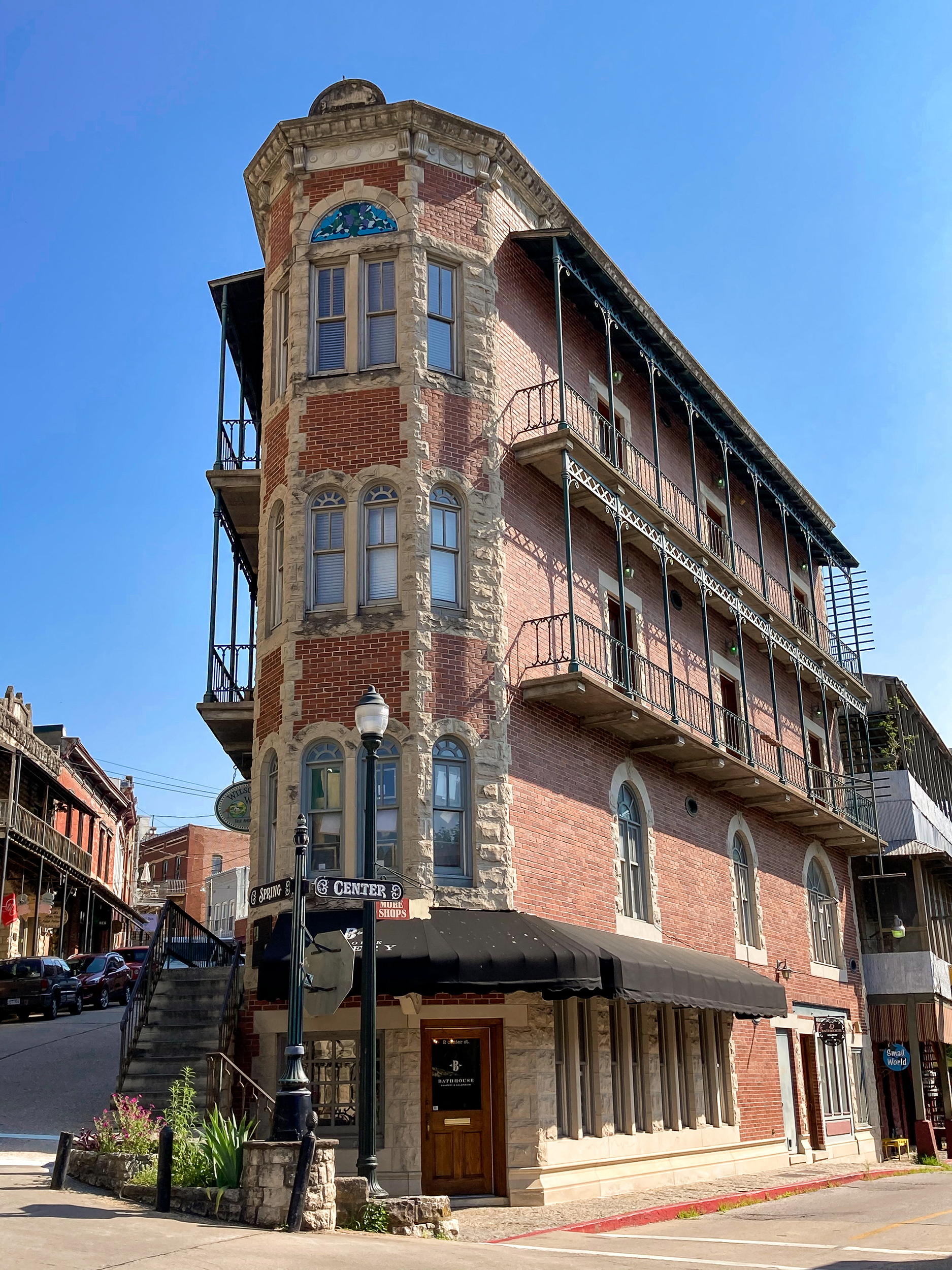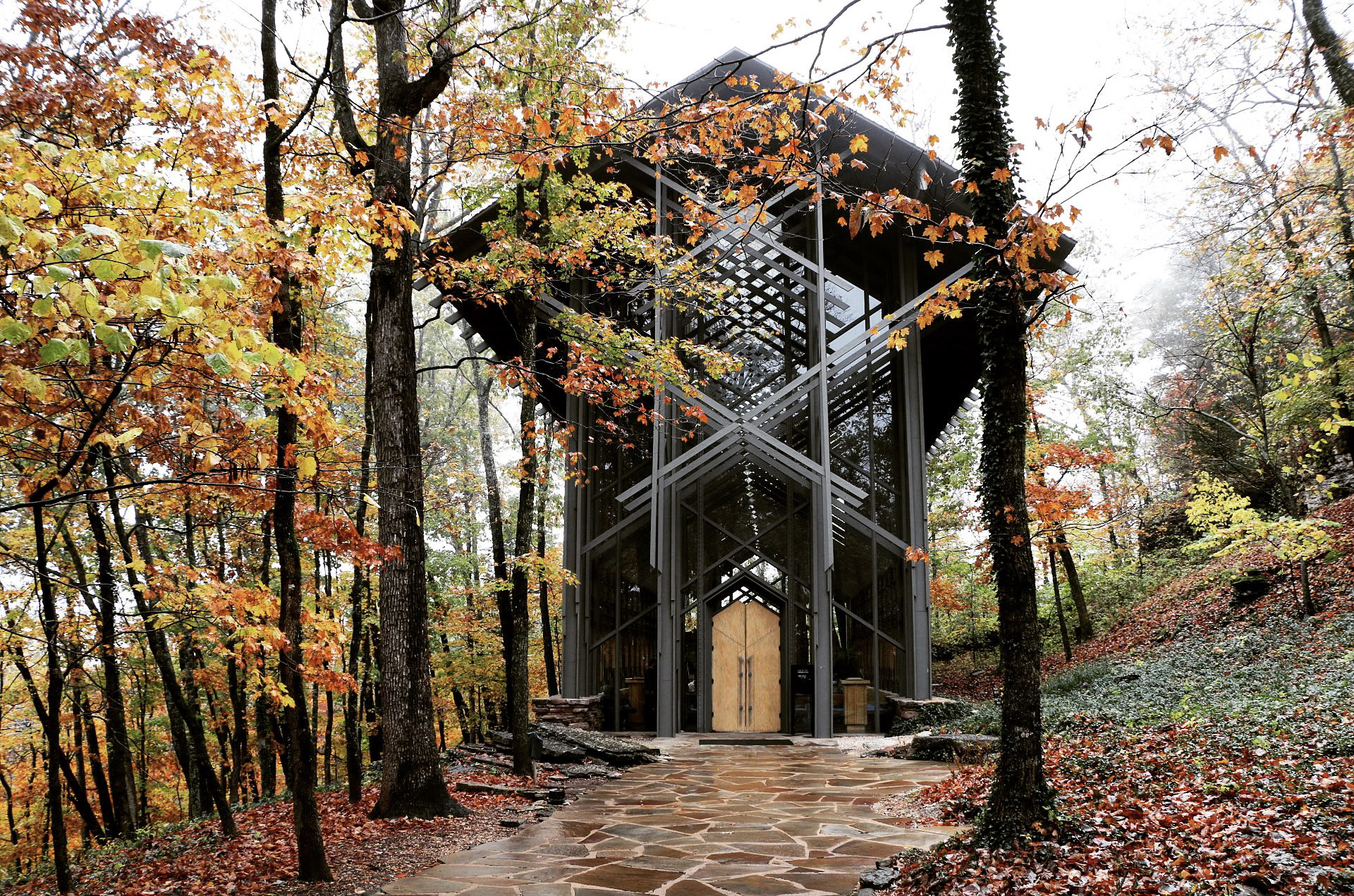 THORNCROWN CHAPEL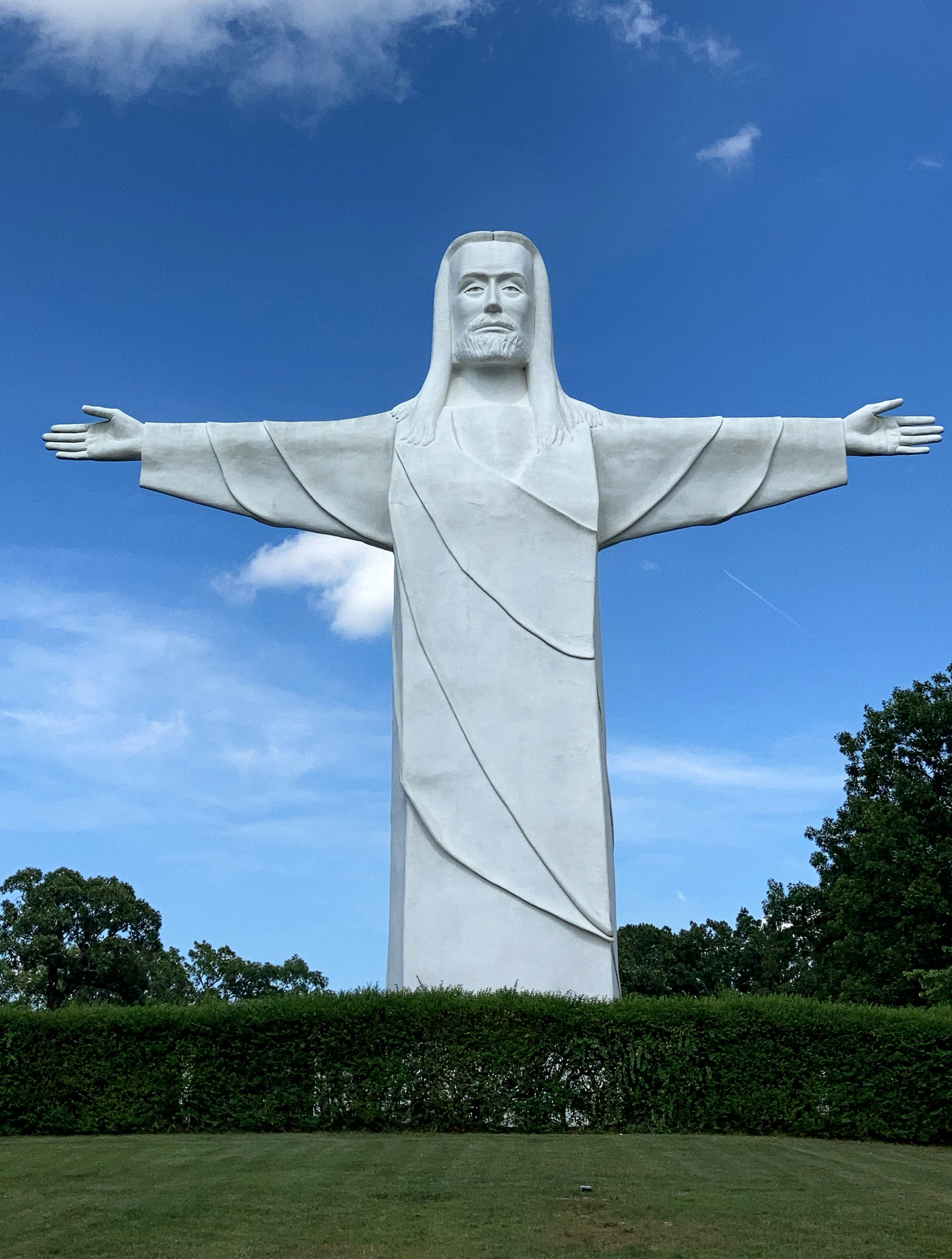 PHOTOGRAPHY BY KIM HORGAN

GUIDED TOUR
St. James
MO. | POPULATION 4,053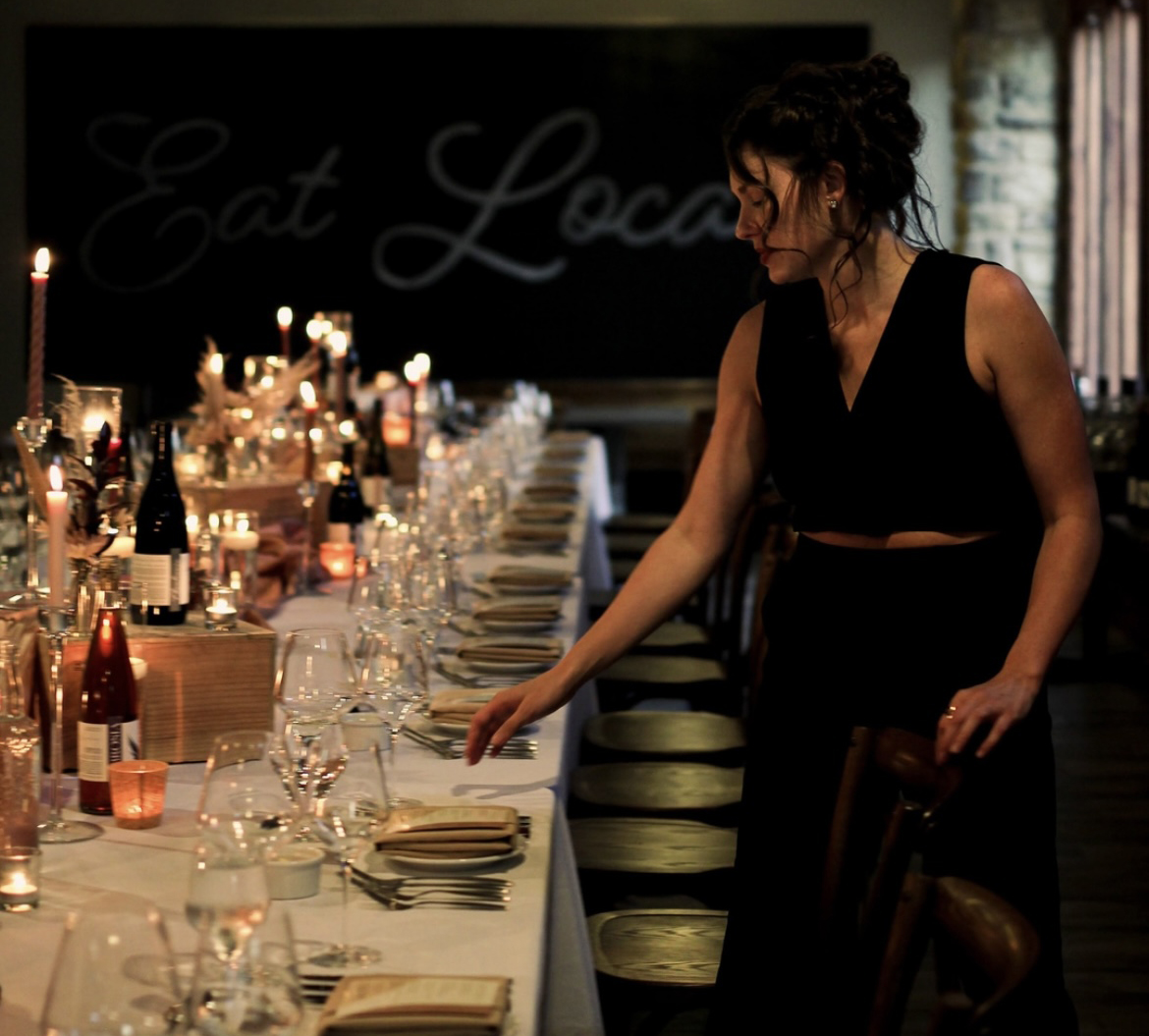 ROOTS: Italian immigrants settled in the St. James area of the Meramec Highlands in the late 1800s. The railroad carried them to new and inexpensive land where the immigrants built a life and eventually began to use their agricultural knowledge to grow Concord grapes. Initially, these grapes were used predominantly for juice and jelly, but over two hundred wineries surrounded St. James by 1922. This community of winemakers helped make Missouri the second-largest wine-producing state in the U.S. until Prohibition wiped out the family wineries that had come to define the region. After Prohibition was repealed, the area was not home to any more wineries until the industry was revitalized when Jim and Pat Hofherr opened up St. James Winery in 1970. 
POINTS OF PRIDE: People are always blown away by how St. James is a small town yet has everything from fine dining to beautiful hikes and crystal clear rivers. [At the winery], I'm most proud of our efforts to make our wine production and facilities sustainable. We're a multi-generational business, and we do everything with the future generations in mind. We fine-tune our irrigation system and constantly monitor our soil moisture data to use less water while growing our grapes. We use the most efficient harvesting equipment available. The big things make a difference, too, like the refrigeration system we installed to save energy while still meeting the needs of Missouri's largest winery.
DON'T MISS: I absolutely love Meramec Spring Park. It is one of the largest springs in Missouri and is perfect for kids, families and dogs. There are places to hike around, and they also have several large events all throughout the year.
EAT UP: For fine dining opportunities, Sybill's St. James cannot be beat. The food is always excellent, and they have the cutest gift shop with tons of unique items. —Brandon Hofherr of St. James Winery  
The post Visit these 12 great small towns near Kansas City appeared first on missouridigest.com.