When the French colonized Vietnam in the late nineteenth century, they could not comprehend a diet without their precious baguette, fine cheeses and coffee. Wheat was imported so that the French could enjoy their casse-croûte—a baguette served with cold cuts, butter, cheese and rich goose liver pâté. And as it has been throughout history, food became a weapon of colonialism and white supremacy: Vietnamese people could generally not afford the expensive French imports, which were poorly suited to the climate anyway. (And just as the colonists had little interest in local foodstuffs, they deemed their cuisine too refined for the natives.)
This attitude shifted somewhat with the advent of the first World War, but it wasn't until colonial rule ended in 1954 and the French pulled out that a Vietnamese take on that genteel sandwich began circulating. Mayo—more shelf-stable in the tropic heat—replaced butter. Cheese was scrapped. Pork pâté was preferred, and local vegetables were piled on. When the Vietnam War ended in 1975 and waves of Vietnamese refugees emigrated to the United States, the bánh mì (Vietnamese for "bread") came with them.
Here's where you can find some of the best bánh mìs in Kansas City.
Pho Lan
315 Cherry St., KCMO.
Order: Bánh mì, $5
If you know, you know. That's the unofficial slogan of Pho Lan's off-the-menu bánh mì, a five-dollar pick-me-up that you can find daily at the Columbus Park restaurant—at least until they run out of baguette.
"We don't list it on the menu because we have a limited quantity," explains owner Aiden Truong. "We pick up the bread every morning from Mercado Fresco on Independence Avenue, and we don't use second-day bread, so when it's gone, it's gone."
With supplies for only about fifty bánh mìs a day, Pho Lan usually sells out. It's a crushable sandwich: Homemade butter is mixed with pork pâté and spread inside the light and springy roll, followed by the restaurant's own sweet soy sauce, then layered with a trio of cold cuts (Vietnamese pork roll, tendon and char siu) and fresh vegetables. An even distribution of textures and flavors makes for a miniature masterpiece.
"I don't think bánh mìs have to be made a certain way," Truong says. "It's a street food in Vietnam, and every vendor does it a little differently. What I like most about bánh mìs is that every vendor's sauce is unique, and I love getting to try all the variations."
Broken Rice & Pho Restaurant
6597 N. Oak Trafficway, Gladstone
Order: Special sandwich, $7
There are five bánh mì variations at Broken Rice, including a meat-free fried egg option (in Vietnam, bánh mìs are primarily a breakfast and lunch meal). But you're going to want the "special sandwich," boasting Vietnamese ham (also called pork roll or chả lụa), char siu (barbecue pork) and shredded pork skin. The latter is listed on the menu as pork rinds, but they are not the crunchy kind: These arrive at the restaurant dehydrated, and the kitchen gives them an hour-long bath in warm water before triple-washing them in cold water and zapping them with rice powder and garlic oil, effectively converting them into glassy noodles with a vaguely porcine memory. There is a generous slather of medium-smooth pâté, imbuing each bite with a pleasant tinge of iron. Like most local Vietnamese restaurants, Broken Rice outsources the production of its baguettes. Unlike any other area restaurant, though, husband-wife owners Viet Cow and Oanh Mai have a commercial oven specifically for toasting those baguettes to order. Ninety seconds at super-high heat gives the exterior a surface that is simultaneously bubbly and porous.
San's Sandwiches
6579 N. Oak Trafficway, Gladstone
Order: Meatball (xui mai) bánh mì, $6
You feel like you know what a meatball sub tastes like—until you order the xui mai bánh mì from San's Sandwiches. Xui mai are bouncy pork meatballs served in a tomato sauce that you could almost call marinara if it weren't for the hint of fish sauce. They would make a satisfying meatball sub for any grinder enthusiast, but the bánh mì version asks you to consider what the addition of cilantro, cucumber and pickled sour slaw would do for the palate. (It does wonderful things, for the record.) The baguette at San's is just chewy enough to be satisfying without making your jaw ache. If you're dining in, your sandwich will be served with a cup of the lovely house pho broth.
Pho Sai Gon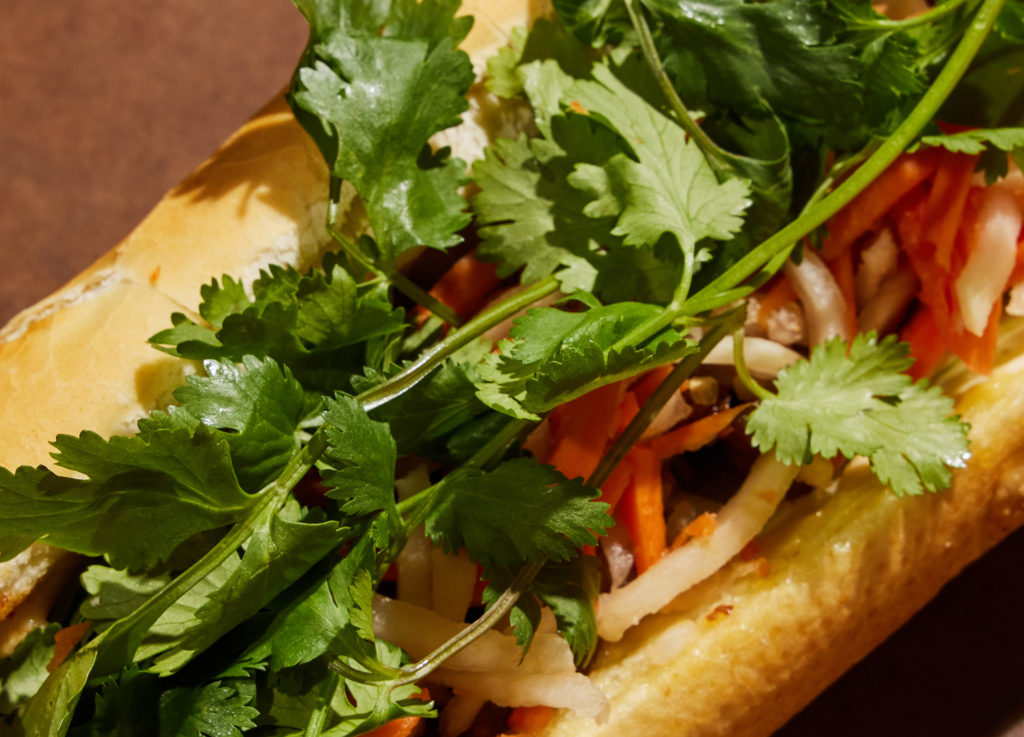 Photography by Caleb Condit and Rebecca Norden
14861 Metcalf Ave., Overland Park
Order: Vietnamese sandwich, $7
Photos of entrees are tacked on the wall next to the walk-up counter at Pho Sai Gon. There is just one option for a bánh mì, and it is labeled simply "Vietnamese sandwich." Order with confidence and you will be rewarded with a robust, hot, two-hands-required sub. Pho Sai Gon's baguette is custom-made for the restaurant by the local Hy-Vee, and it is an effective vehicle (dark crust, fluffy crumb) for the grilled pork tenderloin glistening in a provocatively spiced marinade. The vegetables are extra vibrant, with crispy pickled carrot and daikon and a bouquet of cilantro that bursts from the baguette. This bánh mì does not feature any pâté, but a zippy orange mayo helps keep everything from falling into your lap.
Bun Mee Phan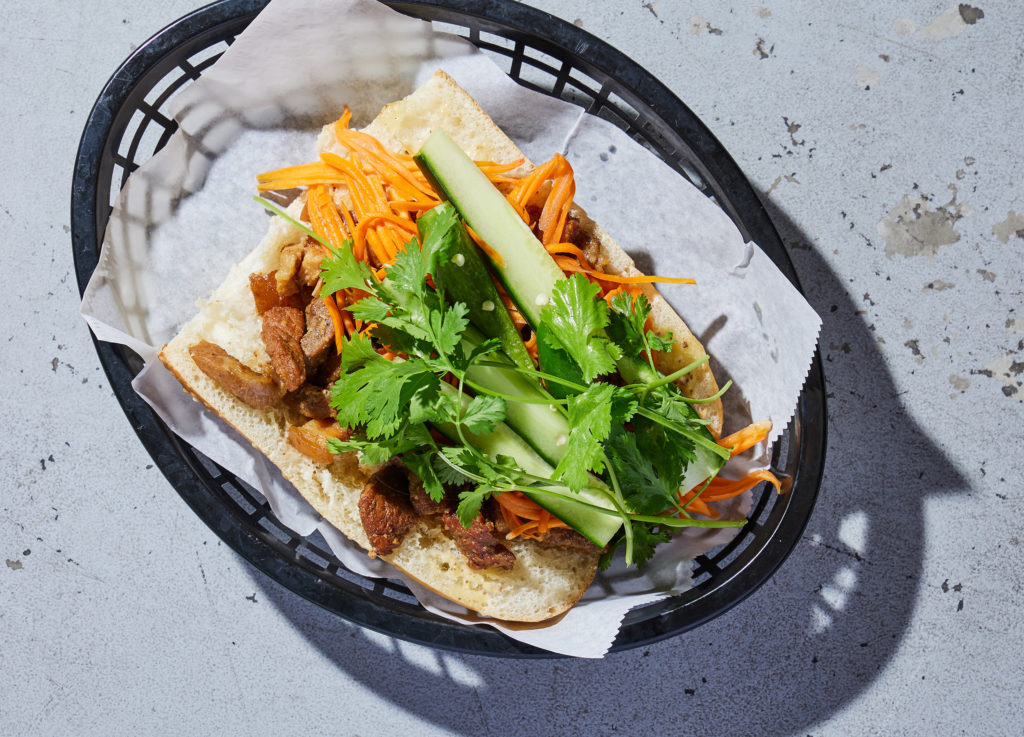 Photography by Caleb Condit and Rebecca Norden
4011 N. Oak Trafficway, KCMO
Order: Special, $7; caramelized pork belly, $8
Six-year-old Bun Mee Phan belongs to Kaylee Nguyen, who emigrated at age eleven from Vietnam to Garden City, Kansas, with her family. There are eight bánh mìs on offer at her counter-service restaurant, including one with fried tilapia (a popular order during Lent) and a vegan lemongrass tofu option. Bun Mee Phan's most popular bánh mì is the caramelized pork belly, which finds a bounty of tender, lightly sweet cubes inside an oversized baguette (sourced from a local bakery). The second best seller is the house special bánh mì, which distinguishes itself from the crowd thanks to the ruby-hued slices of headcheese, a Nguyen family recipe that transforms pig tongue, ear, cheeks and snout into a silky terrine. This is paired with warm char siu, chilled Vietnamese pork roll and a pâté-butter mixture that Nguyen makes in house.
"To me, a bánh mì without pâté is not a bánh mì at all," she says with a laugh. "That's what people love about it! Then again, different regions [in Vietnam] have different takes on it. There's a bánh mì for everyone."
Anatomy of a bánh mí
There's no one way to make a bánh mì, but there are a few staples that you can usually count on.
BREAD
A bánh mì baguette shares some DNA with its French predecessor, but you'll note key differences in the crust (thinner, flakier, delicately crispy) and the interior (light and spongy).
SPREAD
Pork pâté is common in Vietnam, and you'll often find it mixed with butter. Many shops use either a pâté-butter compound or mayonnaise (and sometimes both).
SAUCE
The sauce you find on a bánh mì varies from chef to chef. Oanh Mai, co-owner of Broken Rice, uses a family recipe for her sweet and salty soy-based sauce. Traditional recipes will call for Maggi, an earthy, inky sauce made from fermented wheat.
FILLING
The most popular bánh mì fillings are pork-based—char siu, pork roll, grilled pork, meatballs.
PICKLES
Sliced carrots and daikon get a good punch of vinegar, adding a sour burst to balance out the savory filling.
FRESH VEGETABLES
All include veggies like sliced cucumber, jalapeños and cilantro.
ALSO VISITED: Pho La La (Lee's Summit), iPhotower (Kansas City), Nguyen Pho and Grill (Kansas City), Pho Tuoi (Gladstone), Mi Gia KC (Gladstone), My Xuyen Vietnamese Cafe (Gladstone)
The post We searched for KC's best bánh mìs—here are our 5 favorites appeared first on missouridigest.com.